Griffin Glasshouses' record contribution to the National Garden Scheme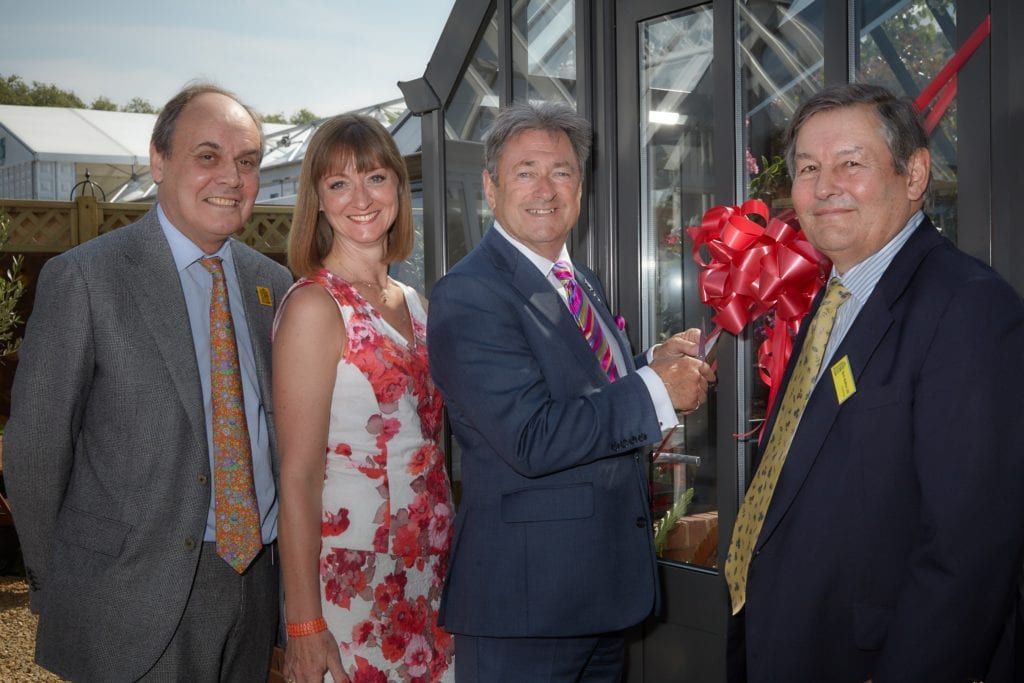 Two new greenhouses launched by gardening celebrity Alan Titchmarsh at the Chelsea Flower Show have helped Griffin Glasshouses make its largest ever annual contribution to the National Garden Scheme.
A cheque for £23,587 – over £10,000 more than its previous best annual contribution – has been given to the charity by Griffin Glasshouses managing director, Linda Lane.   The company has a range of National Garden Scheme greenhouses and gives a proportion of sales back to the scheme each year.
The National Garden Scheme opens more than 4,000 private gardens to the public in England and Wales annually and uses the admissions money – plus funds raised through the sale of tea and cakes at the gardens – to make donations to nursing and caring charities.
"We were delighted when Alan agreed to unveil our new Lavender and Tarragon National Garden Scheme greenhouses at Chelsea in 2018 and they have become extremely popular, accounting for almost a third of the total contribution we have made this year," says Linda.
Griffin Glasshouses is a family business based in Ropley, Hampshire and is one of the UK's leading manufacturers of bespoke greenhouses as well as the National Garden Scheme range. Since 2013/14 the company has donated £68,686 to the NGS from the sales of these greenhouses.
Pictured from left to right: George Plumptre, CEO of the National Garden Scheme, Linda Lane, managing director of Griffin Glasshouses, gardening personality Alan Titchmarsh and Martin McMillan, chairman of the National Garden Scheme.
Scandinavians love that look of the English greenhouse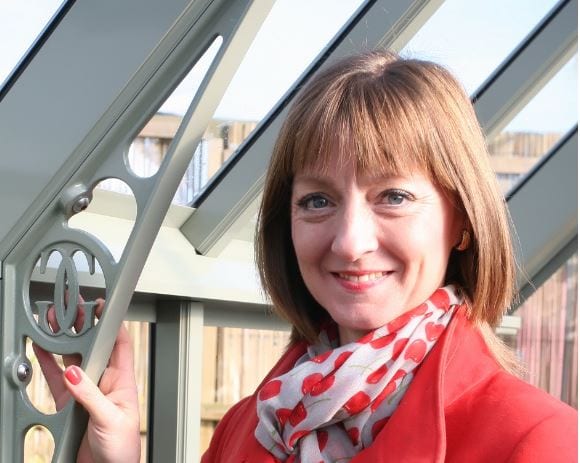 Scandinavia is proving to be one of the most popular export markets for the quintessentially English looking Griffin Glasshouses.
Since appointing the Stockholm-based Vansta Trädgård as its agents for the region in February 2018, sales have increased annually and, despite concerns over Brexit, they believe 2019 will be a record year.
Vansta Trädgård's CEO, Berenike Munthe, sells Griffin Glasshouses throughout Scandinavia, where the common denominators are a deep love of the English style and a dedication to high quality.
"We do have some low-price copycat brands on the market but our customers are discerning and prefer the Griffin quality and workmanship.

"This designed-in quality gives us tremendous confidence when selling to customers, many of whom use the greenhouses for leisure and as an extension to their living space.  They do, of course, also house plants and appreciate that a Griffin greenhouse will protect them from the low temperatures we experience during winter as well as providing the perfect growing conditions in the spring and summer," says Berenike.
"Griffin Glasshouses are the most beautiful products I have seen after almost 17-years in the trade. Their features and quality are superior to the competition and it is a pure joy to work with the products. It is a family business with great leadership; from Linda Lane, who focusses on quality and contented clients. What more do we need?" asks Berenike
Although UK customers are increasingly choosing pastel shades and even more strident colours for their Griffin Glasshouses, in Scandinavia there is only one – traditional white.
Linda Lane (pictured), managing director of the Hampshire-based Griffin Glasshouses, added: "Exports are an increasingly important part of our overall sales and now account for more than 20%. Other key overseas markets are Ireland, Italy, France, Austria and USA".
The greenhouse with a difference at Horatio's Garden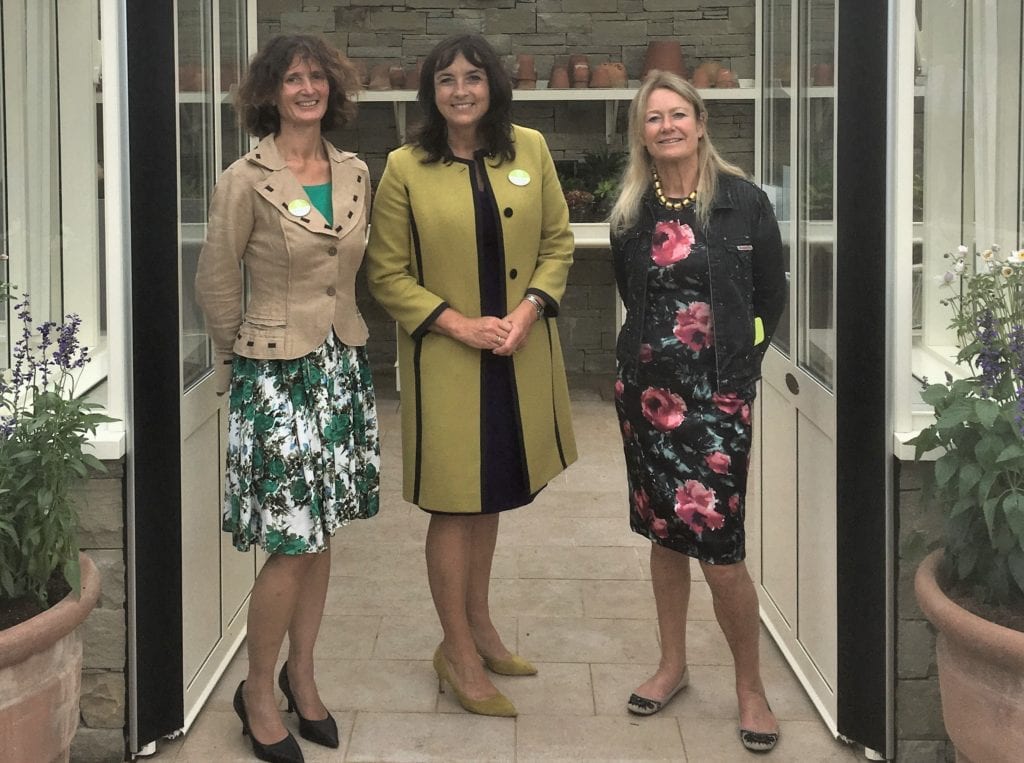 Patients at a spinal injury unit in Shropshire can now learn gardening skills and enjoy peace and quiet away from the busy wards thanks to a new, specially designed garden.
The Griffin glasshouse is the focal point of growing at the new Horatio's Garden at the Midland Centre for Spinal Injuries at the Robert Jones and Agnes Hunt Orthopaedic hospital at Gobowen in Shropshire.
This is the fourth Horatio's Garden in the charitable programme – each is based at a hospital for spinal injuries and Linda Lane, managing director of Griffin Glasshouses, has supplied greenhouses at a two and plans to continue throughout the rest of the campaign.
Dr Olivia Chapple, the chair of Trustees of Horatio's Garden, which are opened in memory of her son, said: "Patients can work with the charity's gardening therapist in the greenhouse to sow seeds and propagate, learning new skills which can bring a sense of purpose as well as improving fine motor control and balance.   The rare and special plants tended by patients are sold to raise vital funds to run the garden.

"In addition, the greenhouse, with its automated doors, is a beautiful accessible place for patients to surround themselves with natural scent as a refuge from the busy ward. They can seek privacy in the greenhouse or have a quiet conversation with a loved one. Patients have had birthday parties, coached their children from exams and even been baptised in the greenhouse!   Everything is designed to improve the lives of those affected by spinal injuries. We are extremely grateful to Griffin for supporting the charity so generously."
Griffin Glasshouses is a family business and Linda is the daughter of the founder. Two brothers, cousins and other family members also work in the Hampshire-based business. Using the latest state of the art aluminium, they make bespoke greenhouses and also a special range for the National Gardens Scheme charity.
The Horatio's Garden at Gobowen is the work of the internationally renowned garden designer, Bunny Guinness.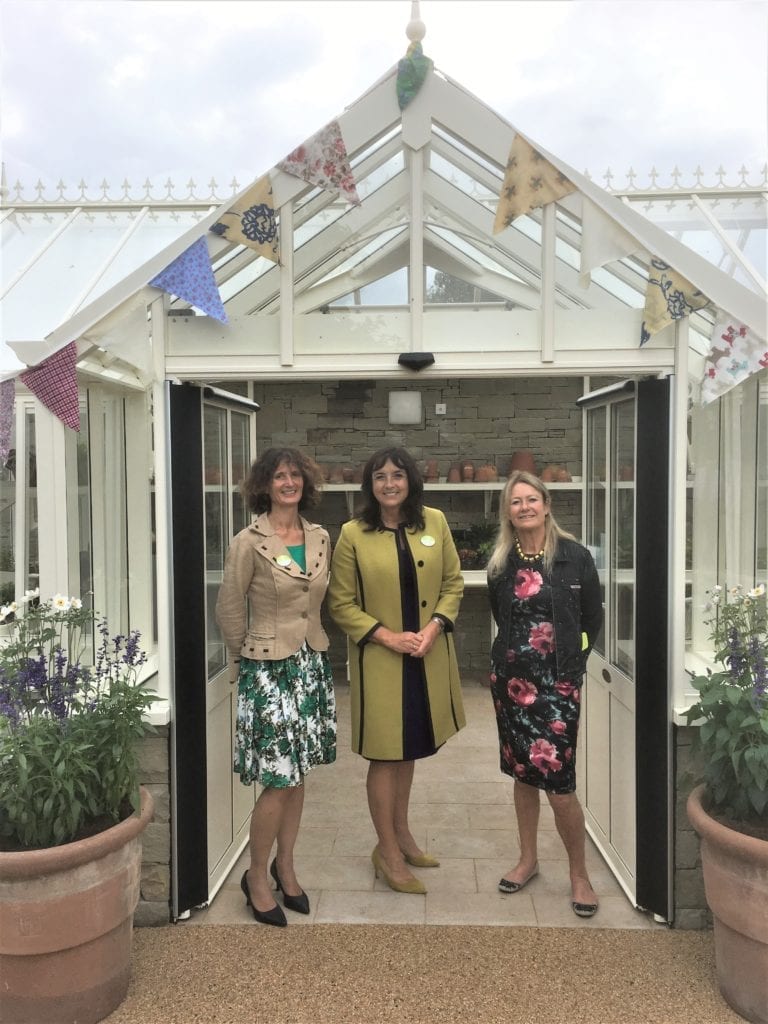 Pictured left to right are: Imogen Jackson, head gardener at the Horatio's Garden in Gobowen, Dr Olivia Chapple and garden designer, Bunny Guinness.
Wheelchair friendly greenhouse at Stoke Mandeville's Horatio's Garden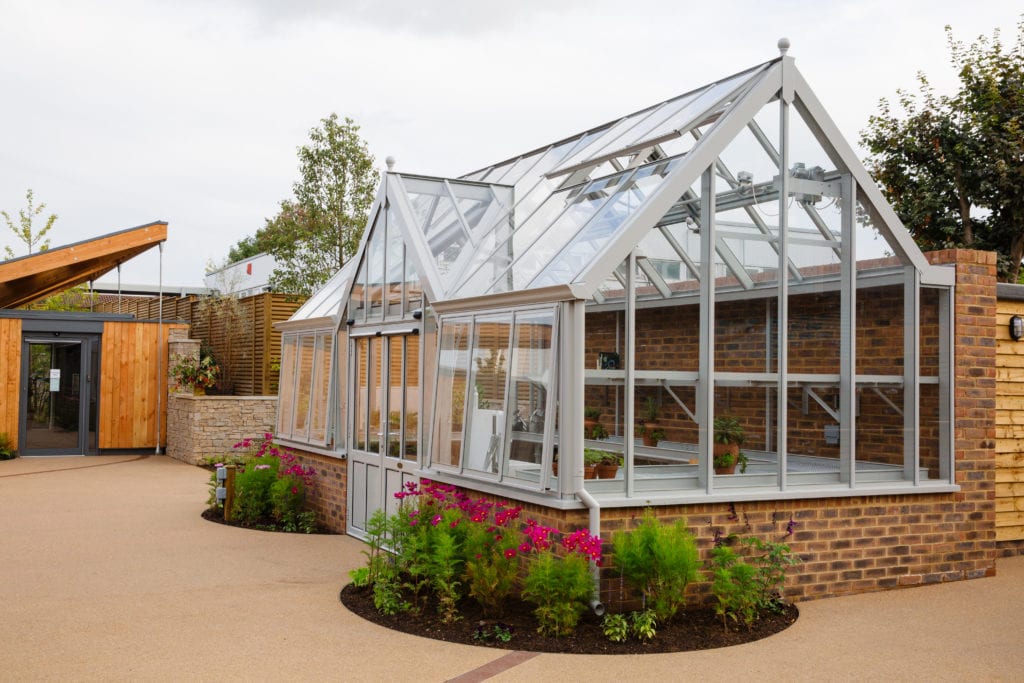 The wheelchair friendly greenhouse that forms a centre piece of a recuperation garden at the Stoke Mandeville Spinal Injury Centre has been welcomed as a key element in the new facility.
Dr Olivia Chapple, the Founder and Chair of Trustees for the Horatio's Garden Trust, told Linda Lane, Griffin's Managing Director, that it provides a major boost to the garden enabling patients and visitors to enjoy it, regardless of the weather.  It also allows patients to participate in active garden projects to aid their recovery.
The Stoke Mandeville Horatio's Garden is the third, following others in Salisbury and Glasgow.  They commemorate Horatio Chapple, Olivia and David Chapple's son, who, before his death, was working as a volunteer and raising money to create a garden at The Duke of Cornwall Spinal Injury Centre in Salisbury, where his father is a spinal surgeon.
Salisbury is the site of the first Horatio's Garden that was designed for the trust by Cleve West.  The second garden, opened in August 2016, is at the Scottish National Spinal Injuries Unit at the Queen Elizabeth University Hospital in Glasgow.  It was designed by James Alexander-Sinclair.
Work is due to begin shortly on the fourth Horatio's Garden at the Midland Centre for Spinal Injuries in Oswestry.  This will be designed by Bunny Guinness and, like Stoke Mandeville, will feature a Griffin glasshouse.  A fifth installation is planned for London and Linda Lane has offered the trust to continue to provide similar glasshouses at Future Horatio's Gardens under the same funding package.
The Stoke Mandeville garden cost more than £1 million, all of which was raised by volunteers.  The National Garden Scheme donated £130,000.
Dr Chapple said: "Patients stay at the unit for an average of five months, but often considerably longer, and often they are a long way from home.  The garden, its glasshouse and garden room, enables patients to get out of the hospital and into the fresh air on their own and with family members.  It is somewhere to relax away from the paraphernalia of hospital wards.  Patients face hugely complex and often life-changing injuries and the garden, and its facilities, provide an oasis of peace and calm.  This is vitally important and all research shows that being in a garden does improve recovery and well-being."
The greenhouse has been specifically designed by Griffin to allow full wheelchair access.  Some patients link with head gardener Jacqui Martin-Lof on gardening projects and the work benches in it have been deliberately shaped and positioned to give wheelchair bound patients easy access.
Jacquie added: "I also invite local schools and volunteer groups to work in the glasshouse and we are planning a number of classes for them and patients including flower arranging and more specific horticultural tasks."