Greenhouses for every gardener with an artistic display at The Hampton Court Flower Show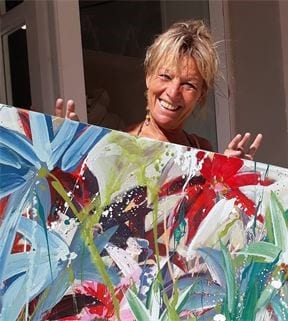 Hampton Court Flower Show: Stand HC519
Visitors to the Griffin Glasshouses stand at Hampton Court's RHS Flower Show will see an array of beautiful abstract floral paintings from an internationally recognised artist, Clare Hooper, complimenting each bespoke greenhouse displayed this year.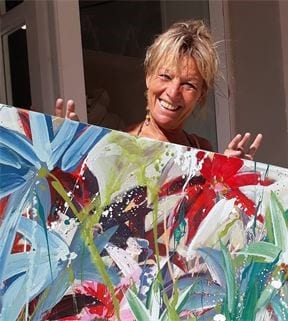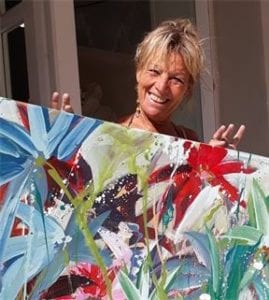 Clare Hooper is a contemporary floral artist who achieves the transmission of vitality, speed and originality to the canvas with a unique, playful use of colour. Linda Lane, Griffin Glasshouses managing director is proud to be showcasing her stunning canvases in the greenhouses at the show.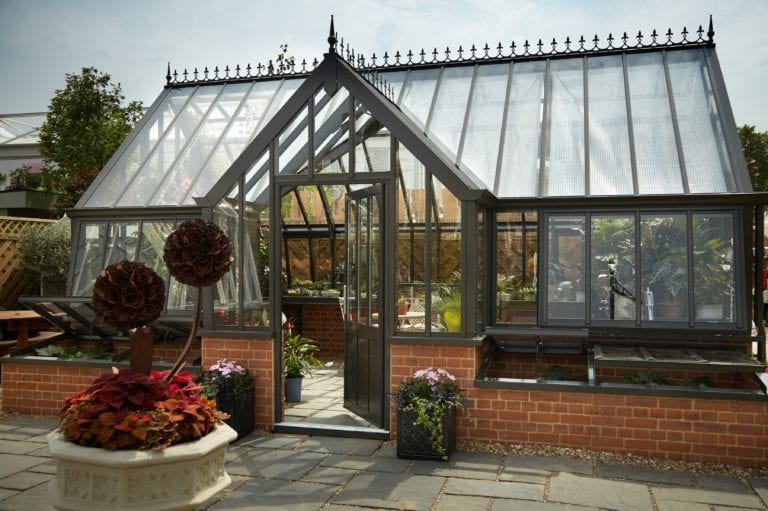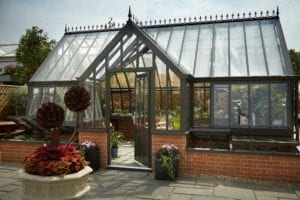 Keen gardeners will be able to see the impressive Lavender and Thyme greenhouses which are a part of the NGS collection. The Victorian theme is reinforced by Griffin's designs having deliberately narrow glass panes, highly decorative ridges and finials as well as internal spandrels.   All are produced from top quality aluminium with hidden fixings and they can be finished in any colour.  Griffin also offer internal rain-water storage and Victorian style work benches with cast aluminium features.
All the materials used in the manufacturing process are of the highest quality and many of the features are specifically designed by Griffin Glasshouses and unique to this family-owned brand.
For more information on Griffin Glasshouses go to www.griffinglasshouses.com and information about Clare Hooper go to https://www.clarehooper.co.uk/
Creating a sustainable garden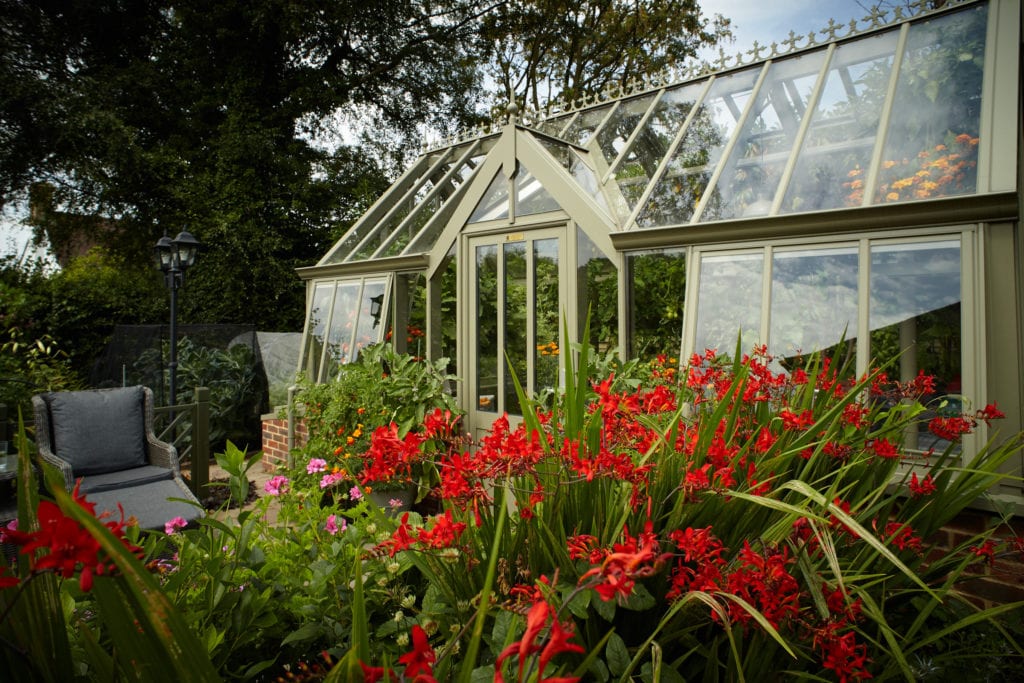 Growing ornamentals and edibles, planting trees and even having a lawn in the garden all make a positive impact on the environment, but some of the products used around the garden can unbalance the benefits these bring.
There are some very simple changes that gardeners can make to create a more sustainable garden, from reducing plastic to encouraging more wildlife; Linda Lane from Griffin Glasshouses shares her simple switches to garden more sustainably in 2019.
"We take our environmental responsibility very seriously and work hard as a manufacturer to keep our impact to an absolute minimum, from sourcing materials from British companies to reducing our carbon footprint by reusing and recycling packaging materials. These principles can also be transferred into how we garden to create a space that is more in harmony with nature."
Planting
Unfortunately, it is impossible to completely eliminate plastic from the garden and the products we use but we can make a positive effort to reduce the amount used. Start by swapping plastic pots for terracotta or wood, recycling the old pots as you go. Where possible grow plants from seeds, cuttings or by splitting bulbs, this will reduce the amount of new plants you need to buy which are nearly always potted in plastic containers.
Growing
Harvest and reuse rainwater to use in the greenhouse and around the garden, most Griffin Glasshouses customers choose to include large rainwater tanks that store clean soft water, one of the benefits of using water that has been collected and stored is that will remain at a temperature that won't shock the roots of plants in the height of summer.
Maintenance
There are a number of simple switches that can make maintaining the garden much more sustainable, start by encouraging more beneficial wildlife to help tackle pests such as slugs, snails, aphids and caterpillars, provide food and water for the birds, ensure that there is access into the garden for hedgehogs and choose plants that encourage bees, butterflies and ladybirds, if you have to use weed and bug controls choose varieties that are gentle on the environment. For mowing, pruning and trimming choose battery power over petrol where possible.
"By changing a few of our regular practices in the garden we can make a big difference to our environmental impact," add Linda.
ENDS
No: 19/93
For further enquiries please contact Graham Paskett or Puja Kotecha at Paskett PR on 01332 258335 or email grahampaskett@paskett.co.uk / pujakotecha@paskett.co.uk
Tips for cleaning your greenhouse from Griffin Glasshouses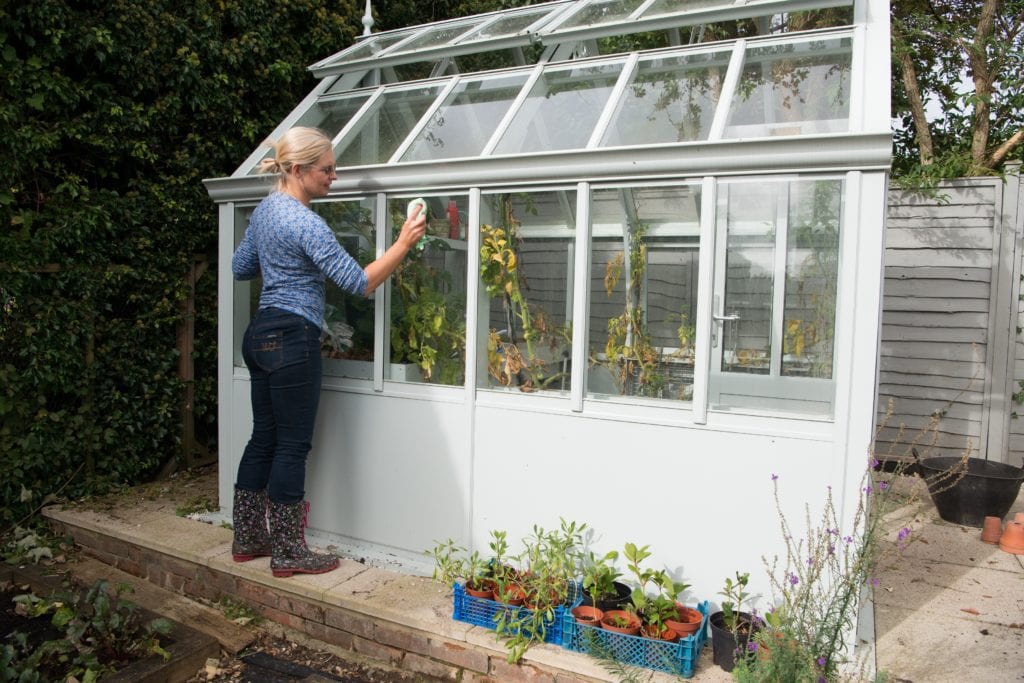 A busy season combined with the slowdown of growth in the winter months can mean that by the time spring arrives your greenhouse may be a in need of a good spring clean.
Linda Lane, managing director of Griffin Glasshouses, which has more than 50 years experience manufacturing bespoke glasshouses, advises greenhouse owners to use a simple three-step process, which leaves a clean and tidy space; "Cleaning the greenhouse can be a daunting prospect, we suggest breaking the tasks down to make the process much more enjoyable. Once the messy work is complete you are rewarded with a clean and tidy space that is a joy to spend time in."
Preparation
Choose a dry and mild day and begin by temporarily removing plants, heaters and any other items from the structure and placing them outside, once the inside is empty use a soft brush to remove dust, dry compost and other debris from the surfaces, sweep up any similar debris from the floor, this should leave the greenhouse fairly dust-free inside.
Clean inside and out
Next jet wash or mop the floor (depending on what type of floor you have), wipe the benches and shelving with soapy warm water and clean the glass using a non-toxic spray. Once the inside is clean and dry make sure the windows are closed and either jet or hand wash the outer glass. Spend some time brushing down the plant pots and trays that were inside the greenhouse too.
Reorganise the contents
If, like many Griffin customers, you store other gardening items in your greenhouse such as seeds, pots and twine, check for any unwanted, broken or out-of-date items before you put everything back, this can free up extra space for plants!
"Starting the season off with a clean and tidy greenhouse will set you up for the busy months of planting and growing that lie ahead," added Linda.
Griffin Glasshouses are made using the highest quality materials, which means annual maintenance is kept to a minimum. Each glasshouse carries a lifetime structural guarantee giving customers the added reassurance of quality.
ENDS
No: 19/61
For further enquiries please contact Graham Paskett or Puja Kotecha at Paskett PR on 01332 258335 or email grahampaskett@paskett.co.uk / pujakotecha@paskett.co.uk
Griffin Glasshouses receives Best New Building nomination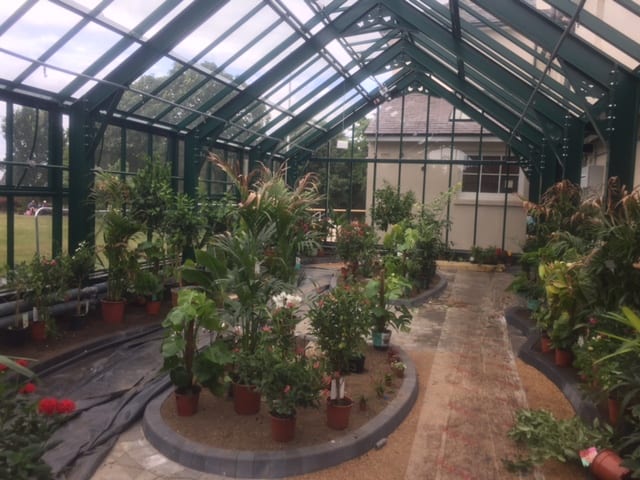 Specialist greenhouse designer and manufacturer Griffin Glasshouses is celebrating being nominated in the Best New Building category in the Portsmouth Society Design Awards.
The recognition comes for the Butterfly House that it created for the Cumberland House Natural History Museum in Portsmouth and which opened to the public in August 2017.
The project saw the old butterfly house being demolished and replaced with the brand-new state of the art Griffin structure, which was specifically designed to offer the tropical butterflies which live there a new and improved habitat in which to thrive.
Since 1983, the awards have recognised exceptional design within building construction, architecture and landscape projects in the City. They acknowledge designs which "show originality and quality of design, plus a high standard of build that will always get noticed". Projects are nominated by Society members, then shortlisted and visited by a judging panel chosen from the world of architectural expertise.
"We're absolutely delighted to be nominated. The Butterfly House project was a fascinating one, which we loved being involved with. It was so interesting to learn about the needs of all the butterflies and to then design the greenhouse to be as unique as its residents!", commented Linda Lane, managing director of Griffin Glasshouses.
The Butterfly House is now a ¾ span greenhouse measuring 6.5m x 12.8m and was a unique brief for Griffin, as Linda explained: "We made bespoke spandrels with butterfly cut outs to complement the setting. Special attention had to be paid to managing the balance stipulated for the internal environment required for both the butterflies and plants. We tailor- made aphid screens to ensure that ventilators could open safely whilst retaining the butterflies and not allowing other insects to enter, also to ensure the butterflies didn't come into contact with the glass". To further complement this, the planting in the Butterfly House is designed specifically for the temperature and humidity levels needed by the butterflies. These include phalaenopsis orchids, jasmine, banana plants, lemon trees, lantana and swiss cheese plants.
Upon opening its doors the new Butterfly House proved to be very popular with thousands of visitors coming to see the butterflies. 13,000 people visited in the first month, which was a 75% increase on visitor numbers for the same period the previous year. As part of the extensive modernisation project, the transformed greenhouse is now capable of hosting large volumes of neo-tropical butterflies.
"The old butterfly house was beyond repair and no longer fit for purpose," explained Chris Richards at Portsmouth Council.  "The decision was taken to demolish and replace it with a brand-new, state of the art structure that will improve the butterflies' habitat and make it an even more enjoyable place to visit."
"Griffin Glasshouses were the perfect partner for this project. They have an exemplary track record and demonstrated a solid partnership approach with a broad engineering focus. The council, local residents and visitors to Portsmouth are all delighted with the new Butterfly House.  The old house had always been popular but everyone is singing the praises of the new facility as 'ten times better' – to quote an eight-year-old regular!" said Chris.
The category winners and commendations will be announced at the society's awards evening on 24th October at the Royal Maritime Club in Portsmouth.
 ENDS
No: 18/261
For further media enquiries please contact Holly Daulby at Paskett PR on 01332 258 335 or email hollydaulby@paskett.co.uk.
Demand for British built garden buildings rising overseas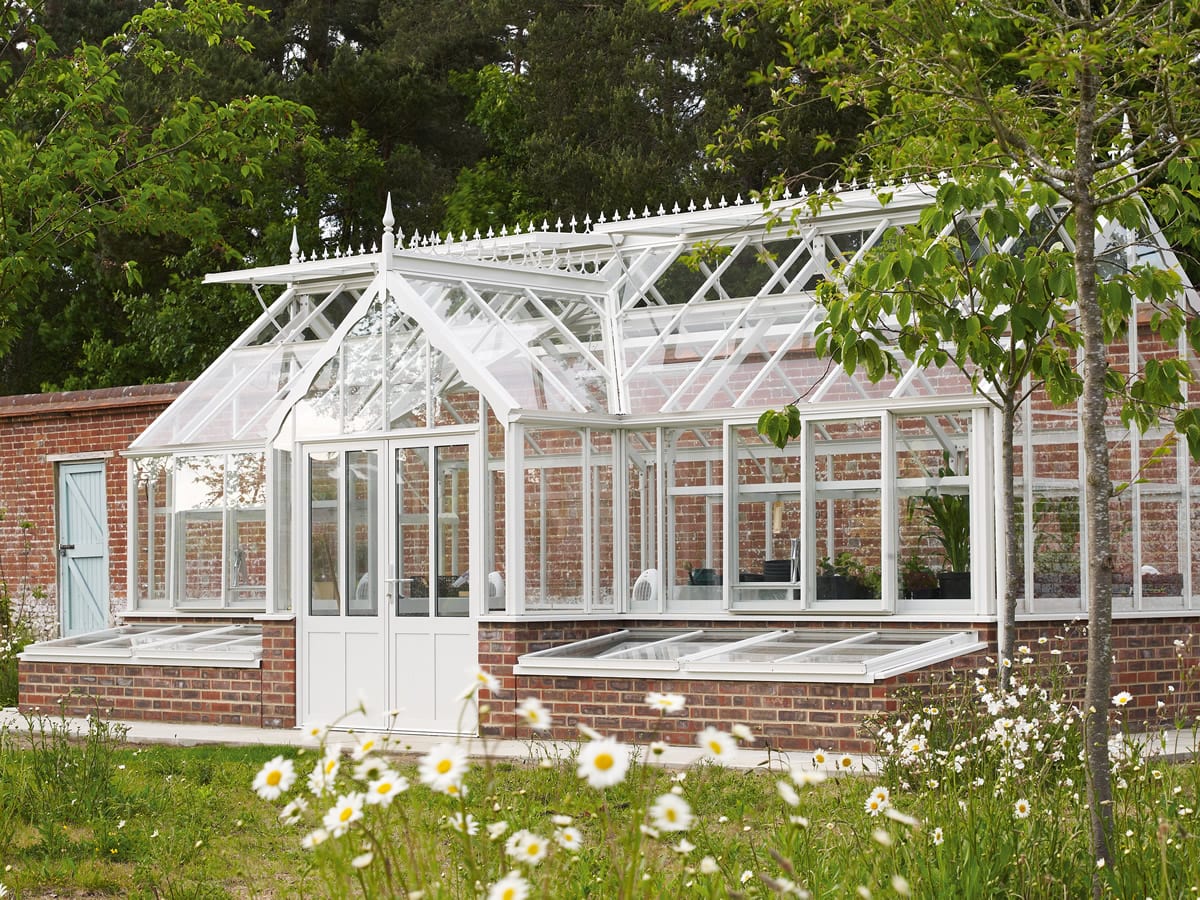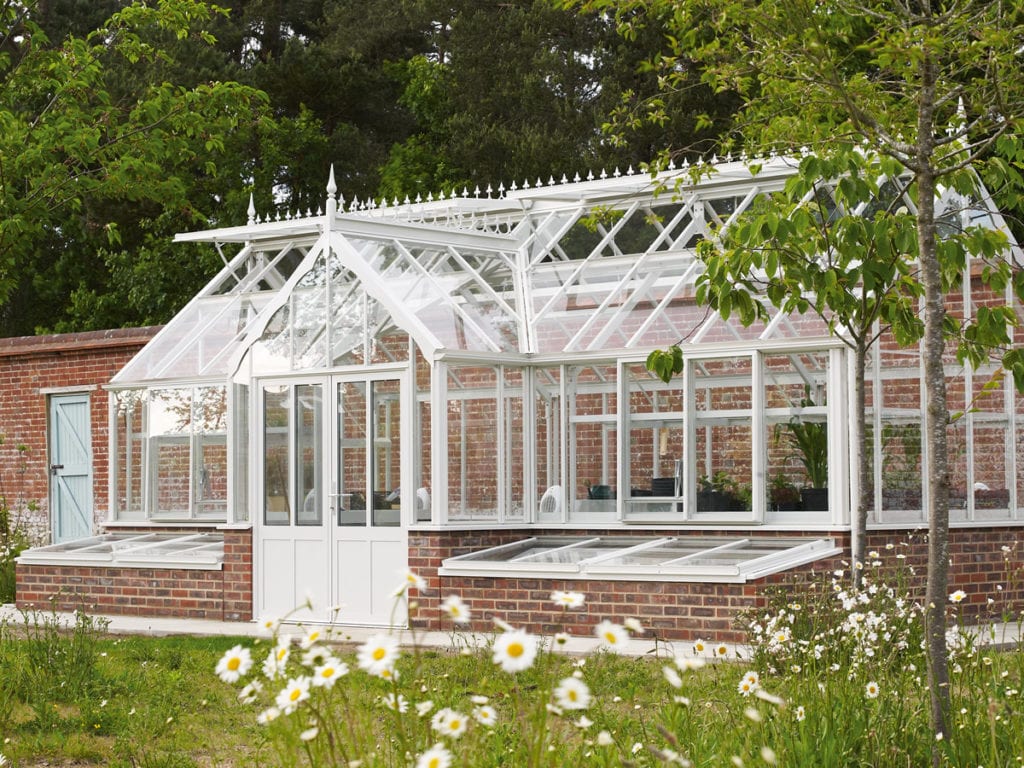 British manufacturers of garden buildings and structures are reporting an increase in interest from foreign markets from customers seeking British design, construction and craftmanship.
The Posh Shed Company, which creates handcrafted sheds and garden storage solutions at its workshops in Herefordshire, has been trading for ten years and custom from Europe has reached its highest volumes in the past 12 months.
The company has created and shipped sheds to Germany, Switzerland and Italy to customers wanting a reminder of home.
Richard Frost, founder of The Posh Shed Company, commented: "Enquiries from customers abroad has notably picked up in recent months. We've been to some beautiful settings for installation – a definite highlight was a trip to the Piemonte region of Italy where one of our bespoke creations now sits poolside with stunning views over the valley below. Shipping and installation is not a problem and we ensure Posh Shed experts from our Hereford team visit each customer to install the item."
Similarly, Griffin Glasshouses, which has been creating beautifully handmade glasshouses for more than 50 years, is also enjoying its greatest success yet in overseas markets. This year alone, Griffin has received orders from the USA, Italy, France and Sweden, having previously installed in France, Norway, Ireland, Austria and Italy. Griffin also insist of using their own team who are familiar with the precision required. Every aspect of the glasshouse, including the glass itself, and the power tools needed for the erection, are packed into wooden crates and delivered direct to the site so the Griffin Glasshouses team can begin work immediately.
Linda Lane, managing director of Griffin Glasshouses, attributes this success to a demand for quintessentially British design, and people being prepared to pay a premium for the quality of structure: "These are not low-cost items so are a big consideration for people; the average price for four of our recent export glasshouses is in excess of £40,000. Two main factors are influencing overseas sales – the first is the quality of the build which, customers say, cannot be replicated in their home markets. The second is their love of the Victorian style of our structures".
For both companies, the RHS Flower Shows are a key time for meeting new oversees customers. Richard continued: "Summer shows attract customers from far and wide and a definitely a great platform for us to showcase our products to those who travel to the UK specifically for the show. We're often asked if we have a showroom for our Posh Sheds but with eleven standard designs and hundreds of different variations, we'd need a really big space! Thankfully, shows provide us with a great opportunity to show off all our products and for customers to come and chat with us and discuss their specific requirements, including how we can arrange installation abroad."
ENDS
No: 18/121
 For further media enquiries please contact Holly Daulby at Paskett PR on 01332 258 335 or email hollydaulby@paskett.co.uk.