Lean-To Greenhouses
Have a property with a high wall? Then a Victorian lean-to greenhouse or orangery is an excellent option.
How it works
The wall collects and stores the sun's heat during the day. The temperature of the modern or Victorian greenhouse is maintained when the heat is emitted at night.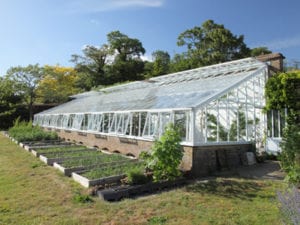 What to expect with our beautifully designed Victorian lean-to greenhouses and orangeries:
They usually have full-length ventilation to the ridge. 
They also include side ventilators to maximise air circulation.
Your Wall Determines the Size
The height of the high wall governs the size of a lean-to greenhouse. 
Example: For a width of 2.4m (8 feet) the wall needs to be at least 3.2m (10 feet 6 inches) high. 
A ¾ span (also known as an offset ridge) is an attractive alternative if the wall isn't high enough.
Key Benefits of a Lean-to Greenhouse
The high wall acts as a heat sink, minimising heat loss in the colder months, reducing heating requirements.
A high wall lends to growing crops/plants best suited for warmer climates e.g. bougainvillea, peaches, apricots, and kiwi.
Full-length roof ventilation together with side ventilation optimises air circulation.
View our other modern and Victorian greenhouses.
Griffin's Glasshouses offer these gardener-friendly features:
The beauty of wood without the maintenance headaches.
Maximum ventilation so your plants don't dry out or suffer the effects of humidity.
Large covered water storage tanks for storing clean, soft rainwater inside your greenhouse. This means you can water your plants without shocking the roots at the height of summer.
Flexible shelving and benching to accommodate changes to your growing schemes.
Cold frames with lids that don't lift off in high winds.
Well-sized doors allowing easy access with a wheelbarrow.