Why Gardeners Choose Griffin Aluminium Greenhouses
Over the years gardeners like you have talked to us about what's important to them when choosing the best aluminium  greenhouse.
We listened!
The result: Our greenhouses offer many practical solutions to gardeners' needs
The gardener's greenhouse
---
Your plants will always need to be watered. Unfortunately, cold water straight from the tap can shock tender roots, especially in the heat of summer. We design our guttering so that you can collect rainwater internally. You can store this in covered troughs inside the greenhouse, giving you a source of untreated temperate water. That's exactly what your plants need.
You don't want to be constrained in what you grow from one season to the next, right? Use our benches and high shelves that fold down to give you flexibility. You can easily adapt your greenhouse or lean to greenhouse as you make changes to your growing schemes.
Importantly, we design your aluminium greenhouse, especially for you and your needs as a gardener. So whether you need a warm, humid environment for your orchids, a cool shady spot for your alpines or wires to support your peaches or grapes, we can create the perfect setting for your plants.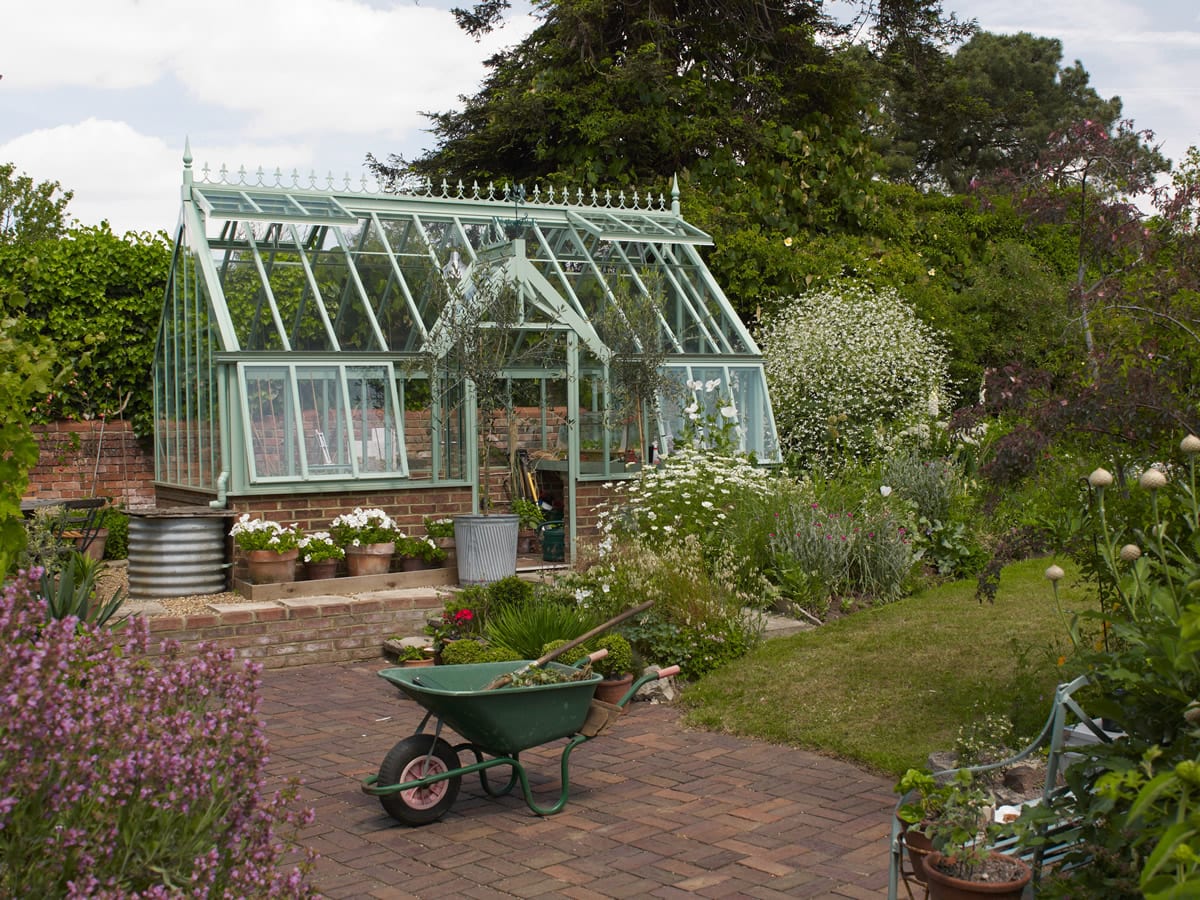 The perfect aluminium greenhouse designed for you
---
Your new aluminium greenhouse is a once-in-a-lifetime purchase. It will be a beautiful addition to your property and bring you planting pleasure for years to come.
What look do you wish to create? Is it in keeping with Victorian tradition or do you want to make a design statement for the 21st century? We can tailor your greenhouse to your exact requirements with a range of :
Roof pitches
Glass widths
Glazing materials (the most common being 4mm toughened safety glass)
Colours
Accessories
Doors (single or double), colour matched to your greenhouse and tailored to your needs. We even add an opening wide enough for a wheelbarrow or wheelchair.
Of course, there are standard options and fixed configurations in our National Garden Scheme collection. But the reason we offer you so much choice is that we want to create your perfect greenhouse. And you needn't worry about all of this becoming overwhelming. We will come and meet with you at your home so that we can understand exactly what you're looking for. Then we'll guide you through the process so that you're confident in your choices and thrilled with the end result.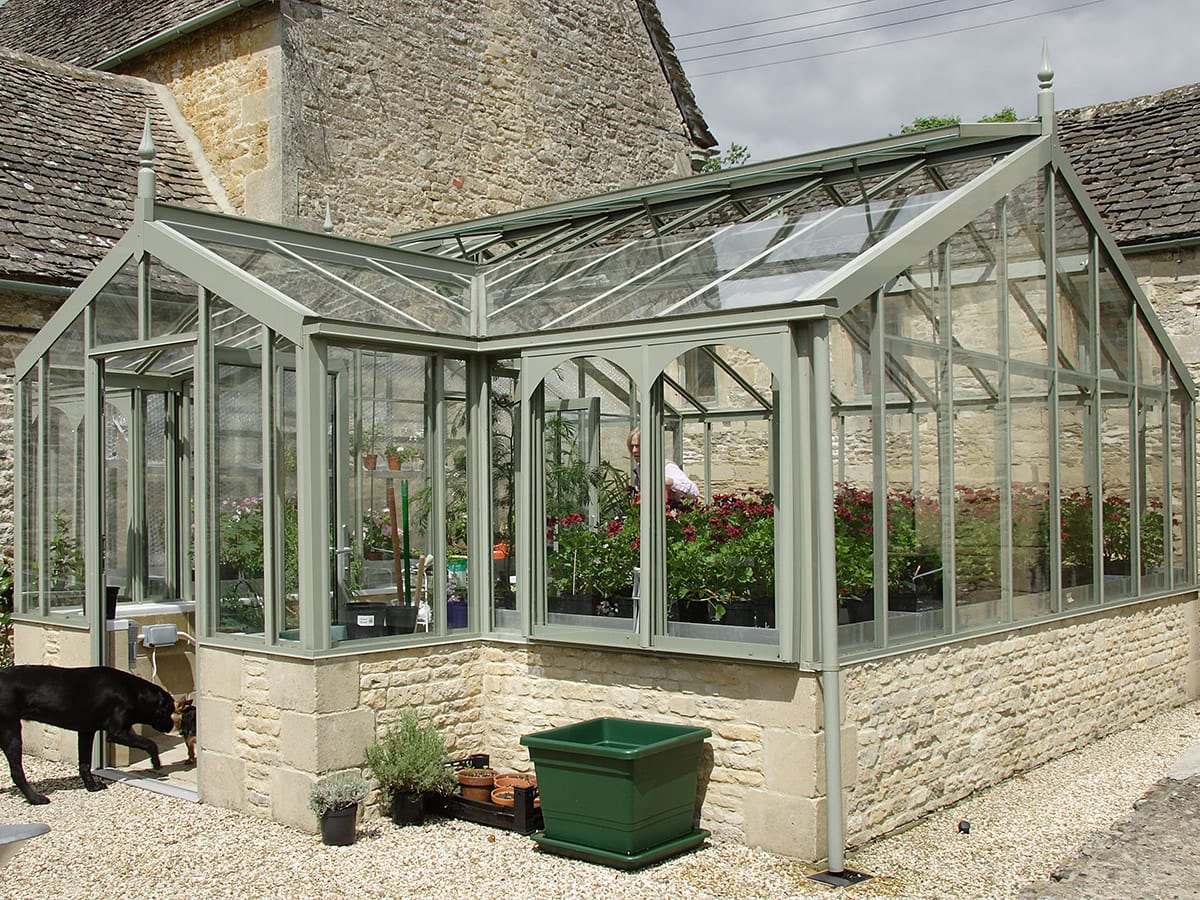 Built to your specification and budget
---
Only you know the design features that are most important to you. Do you know exactly what you're looking for or do you need some help understanding all the options? Either way, our designers are on hand to help you relax and enjoy the process.
With our focus on bespoke design, customers often choose us for the more difficult greenhouse projects. They demand the highest levels of design and build quality to work around tricky sites or to create a particular growing environment. So, whatever the style and size, you can be confident that we can deliver exactly what you have in mind – your dream greenhouse.
We are always happy to work with you to refine the design until you're fully satisfied with both the elements of the design and the cost. This means that you can be confident that you're getting the best greenhouse design possible for your particular budget.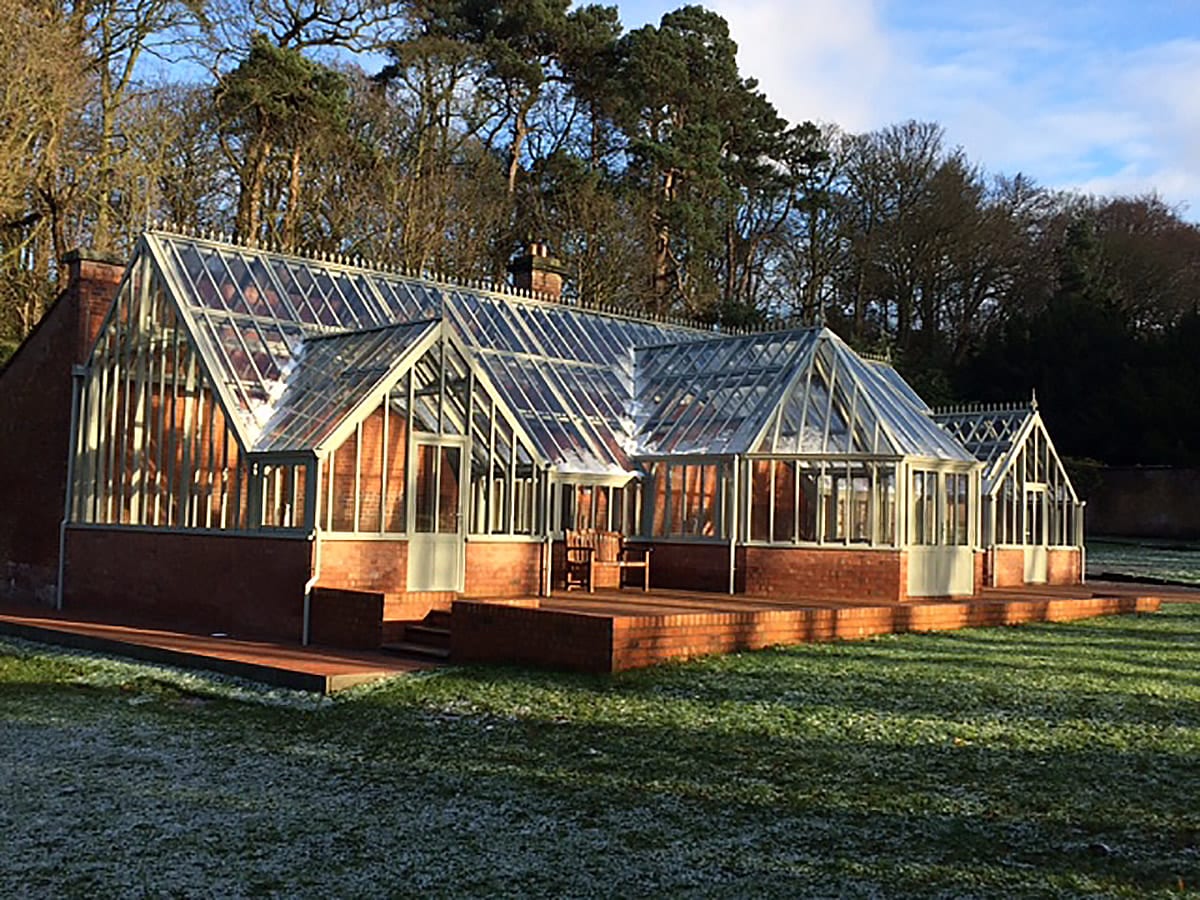 All the beauty of wood without the drawbacks
---
Of course, you want to spend your time cultivating your plants not worrying about the upkeep of your greenhouse. We manufacture aluminium greenhouse products and also use hot-dipped galvanized steel. This gives your greenhouse all the appeal of a traditional wooden structure but without maintenance headaches.
We design all the components of your aluminium greenhouse to avoid corrosion and every greenhouse benefits from our unique patented capping system. This insulates the glazing bar, overcoming the heat-loss problems traditionally associated with aluminium. It also reduces glass slip and water leakage.
Because our structures are inherently strong, it's extremely unlikely for a pane of glass to break, even in high winds. In addition, our design also prevents the growth of moss and algae on the glass, making cleaning much easier. So, unlike wood, which requires sanding and painting or staining every few years, our aluminium greenhouse structures simply need a power wash to restore them to their beautiful best.
Available in any colour
---
Customers often ask us to match a particular colour. Good news: we can powder coat your aluminium greenhouse in any shade you like.
The most popular colours are:
But, if you want us to make yours fiery red to match your chilli collection or magenta to set off your prized pelargoniums, we can certainly do that.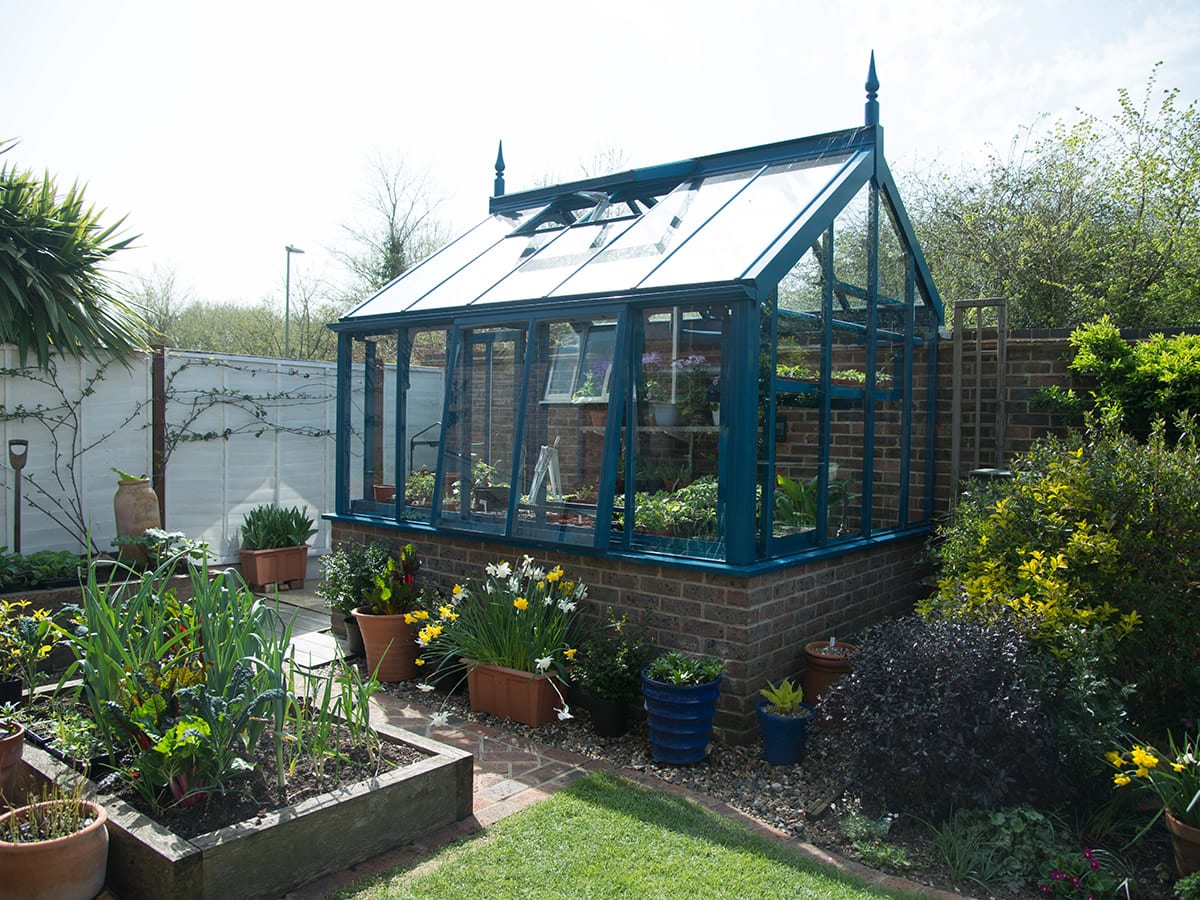 The ultimate in ventilation
---
All your hard work will be wasted if your plants dry out or suffer the effects of humidity. Therefore, it's absolutely essential to maximise the ventilation in your aluminium greenhouse and provide a good through-flow of air.
We design your greenhouse to deliver the gold standard in ventilation, using the very best ventilation systems in the industry. Our ridge and eaves gutter design means that we can tailor the ventilation to your exact requirements and we can install full-length ventilators to both the side and roof.
Depending on your preference, we offer a range of ventilation systems:
One you operate by hand.
Automatic vent units are very popular because they open and close on their own. This gives you peace of mind that your greenhouse will always be fully ventilated, even when you're away on holiday in the height of summer.
Where there is no electricity supply and typically in smaller greenhouses, we tend to use Bayliss hydraulicheck autovents. These are automatic ventilators that open and close using energy from the sun's heat or the surrounding air. The hotter it gets, the wider the autovent opens and as the temperature cools the autovent closes.
If you have a power source nearby, you can use a thermostatically controlled electric rack with a pinion vent opening unit. With this setup, you determine at which temperature a vent must open or close, so you have even more control over your greenhouse environment.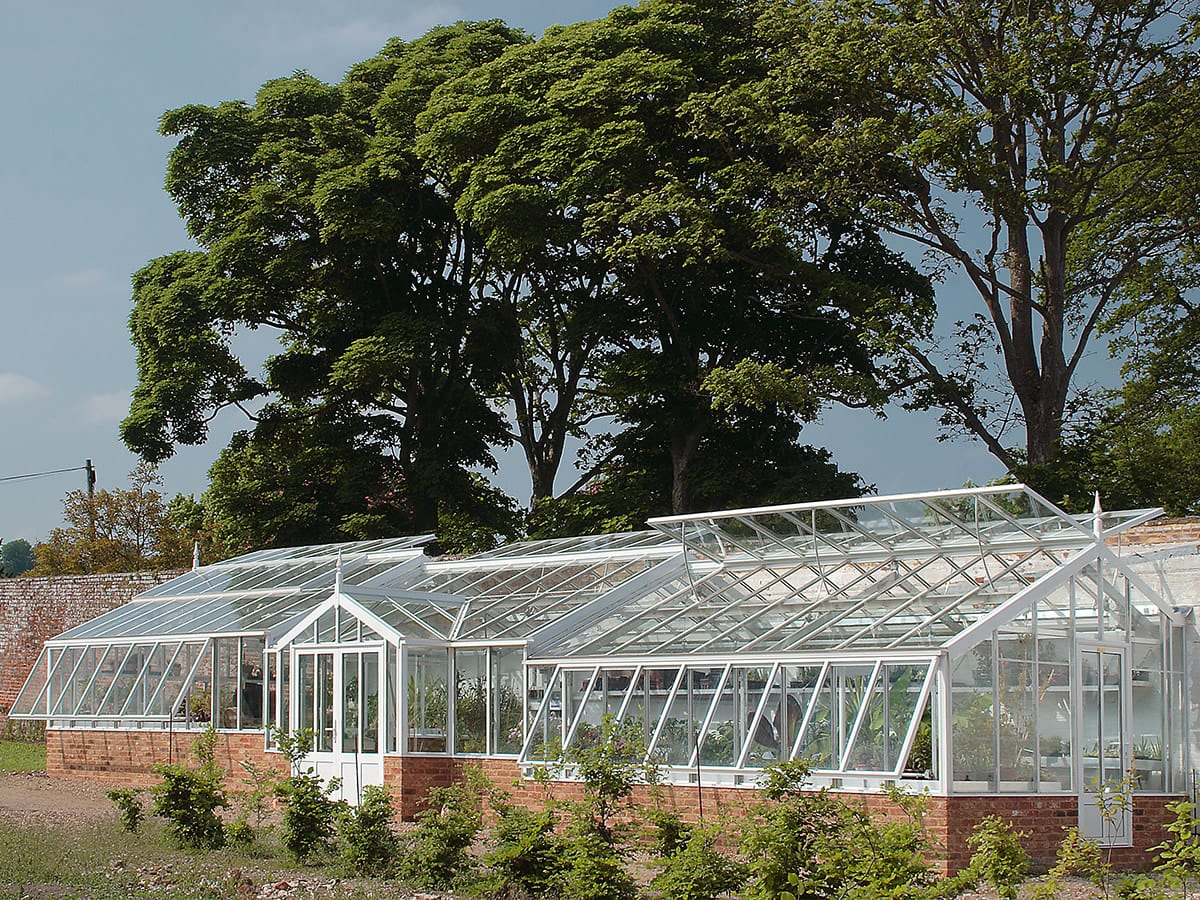 Stress-free installation
---
Delivery timescales depend on each individual situation. We always try to work with you to ensure that your new greenhouse is delivered in the expected timescales. Should you require planning consent, we are happy to liaise with the local planning department on your behalf. Depending on distance, we can undertake the complete building works for you, including the removal and disposal of any existing buildings.
Our aim: to make things as easy as possible for you.
We can do as much or as little as you need and coordinate with other suppliers as part of a bigger project if required.
.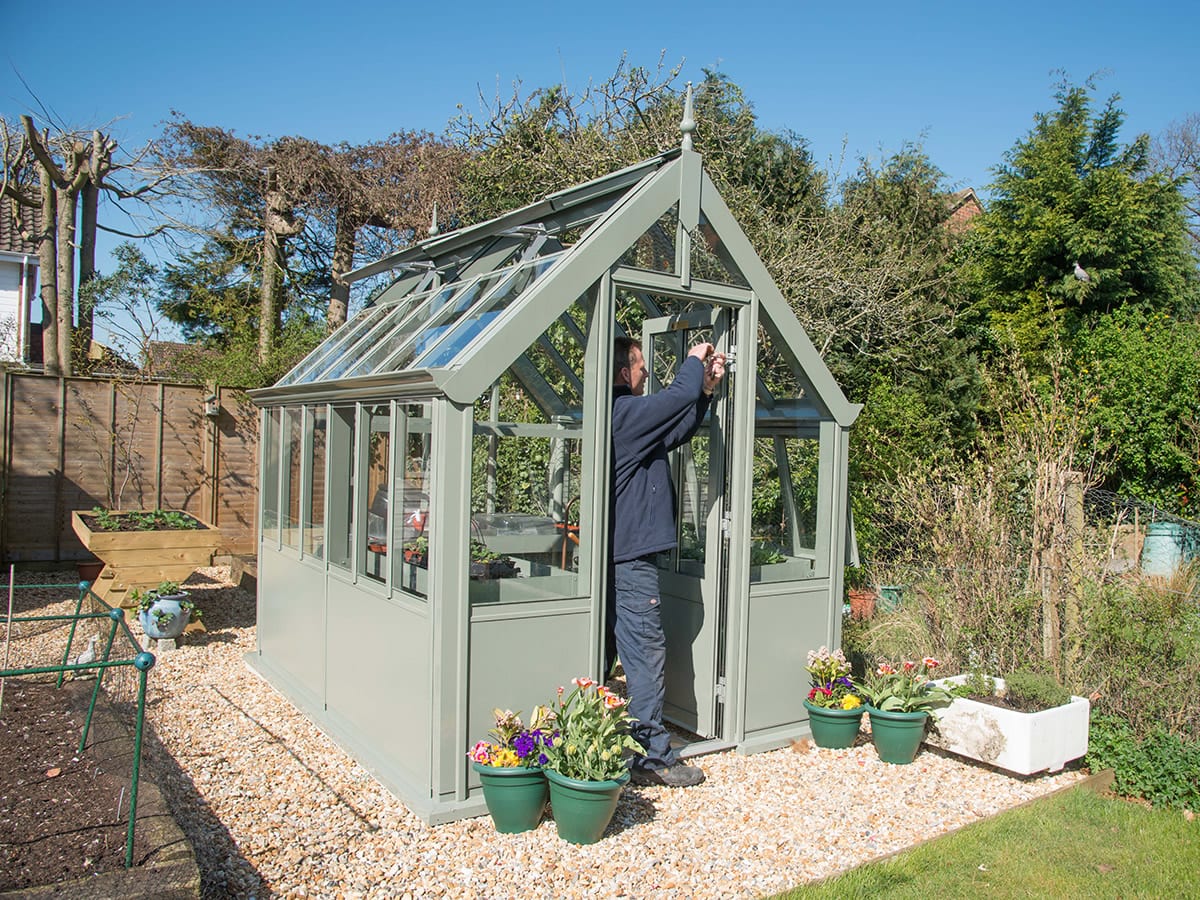 Guaranteed for life
---
You can be confident that you're investing in the highest quality with a Griffin greenhouse, backed by a lifetime structural guarantee.
Maintenance is simplicity itself. All you need to do to keep your aluminium greenhouse looking as good as new and in pristine condition for your plants:
Power wash it inside and out once a year
Apply a little oil to the door hinges and pinions (if you have them)
Most importantly, as a valued customer, be assured of our personal service and help with anything you may need for your greenhouse in the future.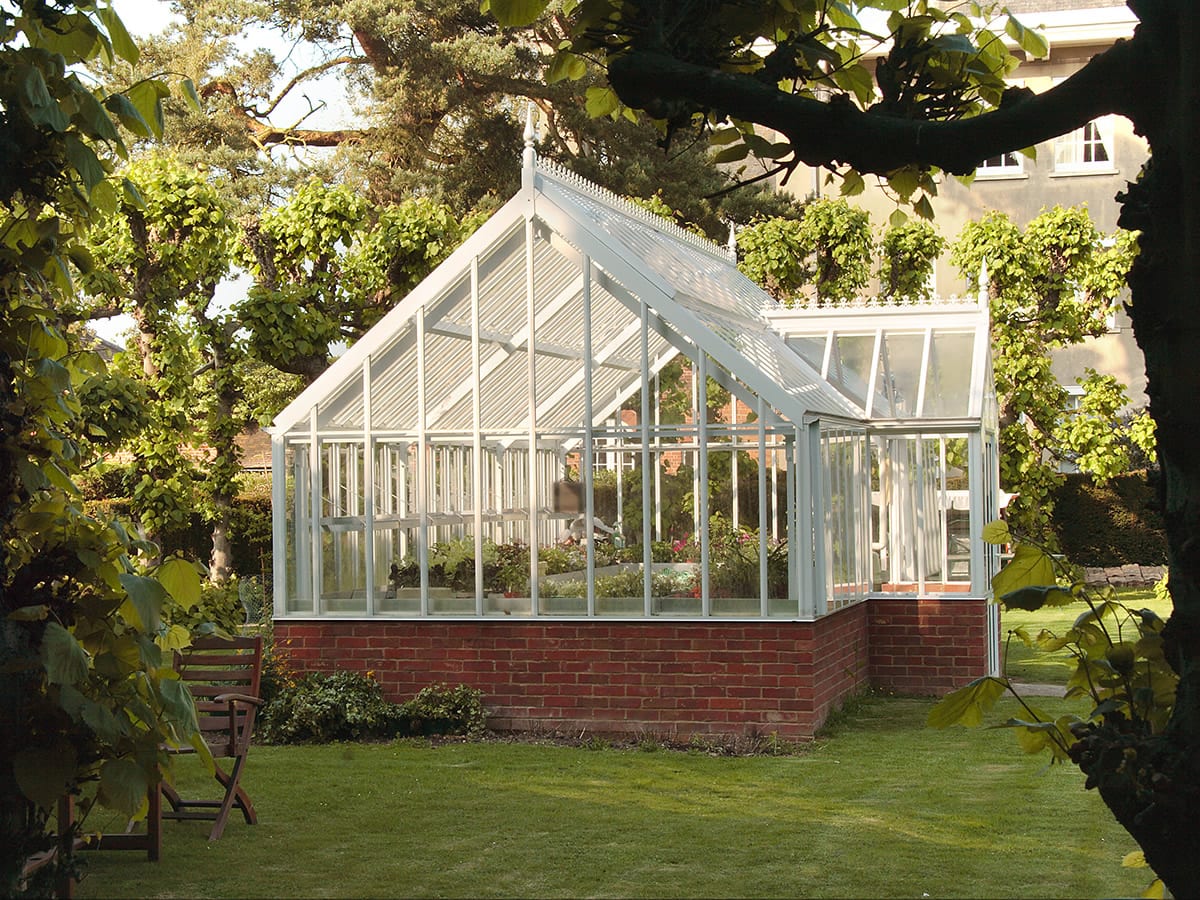 Aluminium vs wood - 5 Important considerations
---
Aluminium greenhouses are becoming increasingly popular among gardeners and plant enthusiasts and here's why.
Durability
Aluminium greenhouses are more durable than wood greenhouses. They are resistant to rust, rot, and weather damage, making them a long-lasting investment.
Maintenance
Aluminium greenhouses require less maintenance than wood greenhouses. Wood requires regular painting and sealing to protect it from the elements, but aluminium requires no such upkeep.
Heat retention
Aluminium greenhouses are better at retaining heat than wood greenhouses, thanks to the frames having a lower thermal conductivity.
Lightweight
Aluminium is a lightweight material, which makes it easier to move and install than wood. This can be important if you ever want to move your greenhouse to a different location in your garden.
Cost efficiency
Aluminium greenhouses are generally more cost-effective than wood greenhouses, for multiple reasons. For example, aluminium is a cheaper material than wood, and it requires less maintenance over time.
If you're considering purchasing a greenhouse, aluminium is the way to go and Griffin Glasshouses will deliver the best possible solution for your property.
Talk to us to discuss your needs, view our collections, and together we'll find the ideal, customised greenhouse solution!