Oct
2017
Butterflies fly high in new Griffin glasshouse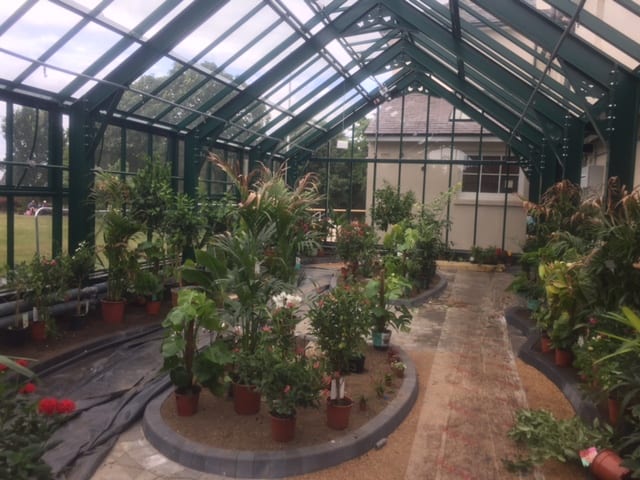 There has been a real sense of excitement around Cumberland House Natural History Museum in Portsmouth as visitors flock to experience flying gems in the new Butterfly House.
Since opening last month, the purpose-built Butterfly House by Griffin Glasshouses has attracted more than 13,000 visitors through its door to see the tropical butterflies thrive in their new environment.
"The old Butterfly House was beyond repair and no longer fit for purpose," explained Chris Richards at Portsmouth Council.  "The decision was taken to demolish it and replace it with a brand new, state-of-the-art structure that will improve the butterflies' habitat and make it an even more enjoyable place to visit.

"Griffin Glasshouses was the perfect partners for this project.  Having an exemplary track record, the company demonstrated a solid partnership approach and a broad engineering focus."
The tropical butterflies, which include Swallowtails, Morphos, Caligos and Longwings, arrive as pupae and are hatched in the puparium within the glasshouse.  The planting in the Butterfly House is designed specifically for the temperature and humidity levels needed by the butterflies and features varieties that are attractive to them. These include phalaenopsis orchids, jasmine, banana plants, lemon trees, lantana and swiss cheese plants.
"There is also a small water feature to provide moisture and maintain humidity," added Chris.
Portsmouth City Council funded the entire capital cost of the new Butterfly House.  Grants from Tesco, Waitrose and Fyffes, as well as, fundraising activities all helped to contribute to the costs of the internal features.
"The council and the residents of and visitors to Portsmouth are all delighted with the new Butterfly House.  The old house had always been popular but everyone is singing the praises of the new facility as 'ten times better' – to quote an eight-year-old regular!" said Chris.
With more than 50 years' experience in the industry, Griffin Glasshouses offers a range of low-maintenance, unique design glasshouses from lean to, free standing, to its NGS collection.  Griffin glasshouses are made using the highest quality, maintenance free aluminium that is specifically designed to give the appearance of traditional wood.