Jun
2022
It's A Record £25,000 Donation To National Gardens Scheme By Griffin Glasshouses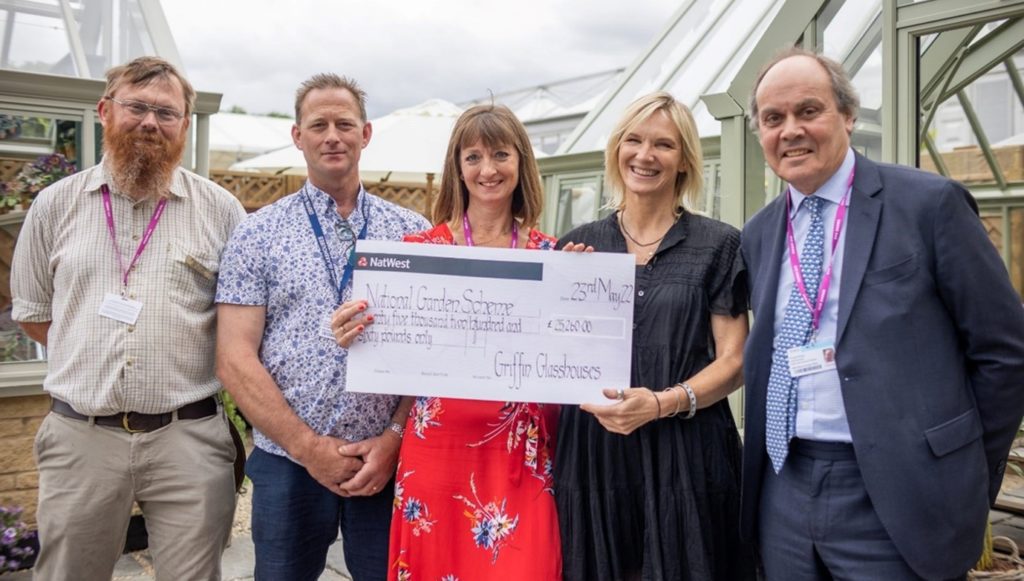 As long-time supporters of the fundraising work of the National Gardens Scheme, Griffin Glasshouses were delighted to present a record £25,000 cheque to the charity, raised from proceeds from sales of glasshouses in 2021.
Our NGS collection of glasshouses has helped us to raise a record £25,000 for the National Gardens Scheme this year. 5% of the profits for every glasshouse sold from the range goes to the NGS, and 2021 was a bumper year for us that has enabled us to donate £25k to the charity as a result.  The cheque presentation was made to new Ambassador Jo Whiley, and CEO George Plumptre at the RHS Chelsea Flower Show.
We also welcomed back NGS volunteers, who visitors to RHS Chelsea will find are a regular presence on our stand.  It's an important opportunity for volunteers to talk to show goers about the work that the NGS does and how the organisation raises much needed funds through its open gardens scheme each year.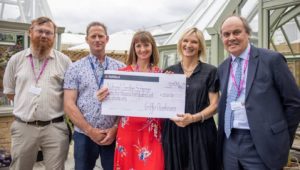 The cheque for £25,000 was presented to the NGS at RHS Chelsea. Pictured left to right: Paul Smith, Peter Griffin and Linda Lane of Griffin Glasshouses, and Jo Whiley and George Plumptre for the National Gardens Scheme.
Managing Director, Linda Lane, says of the donation, "We were thrilled to be able to support the National Gardens Scheme with our biggest donation yet, through sales of our NGS range of glasshouses during 2021. We know our donation will be used to help the NGS's beneficiary charities who are suffering after two years of pandemic lockdown, so we hope this provides a welcome boost."
If you would like to talk to us about our partnership with the NGS, or how we can help you with your garden design plans, then please get in touch with us on +44 (0) 1962 772512 or sales@griffinglasshouses.com.