May
2021
Griffin Glasshouses are Delighted to be at RHS Chelsea… But Not Just Yet!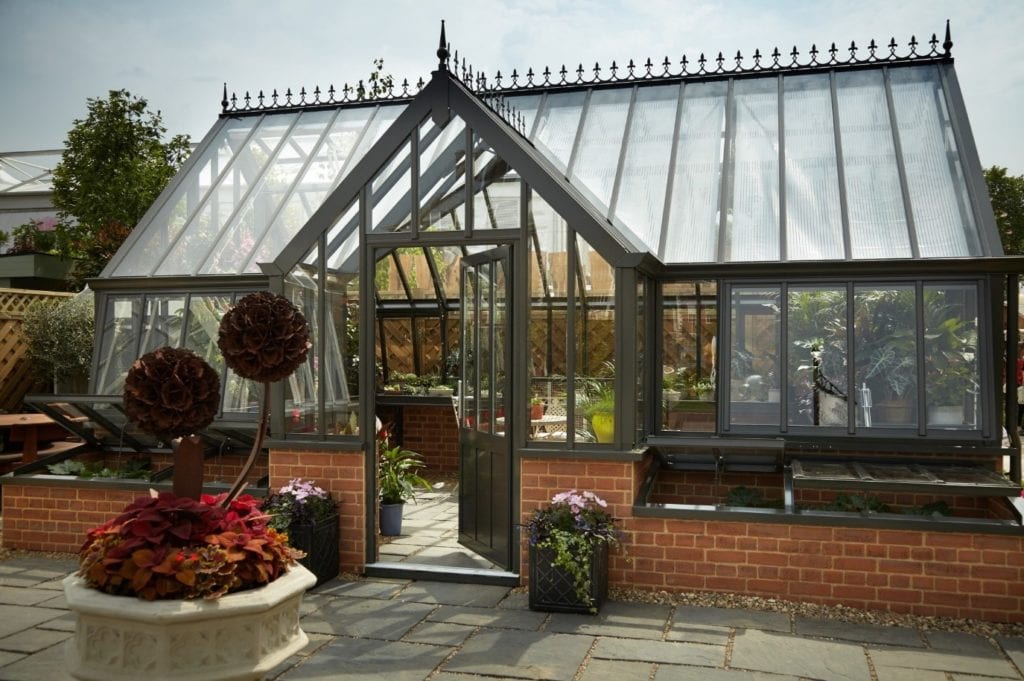 The month of May is always eagerly anticipated by people who just love going to flower shows. RHS Chelsea is the ultimate highlight of the flower show circuit each year, with tickets selling like hot cakes for the very limited gate numbers that are allowed through into the site. What the RHS Chelsea Hospital site lacks in physical space, it more than makes up in the buzz and excitement that can be had every single day of the show.
In our memory, it's always hot and sunny, and the sales of champagne and strawberries have the tills constantly pinging, keeping the crowds happy. The great and the good, the rich and famous and the very beautiful can all be found at the Chelsea Flower Show, most especially on Press Day for those with coveted Press Day tickets. But this year, once again due to COVID-19, the show has been moved to September (21-26 September 2021).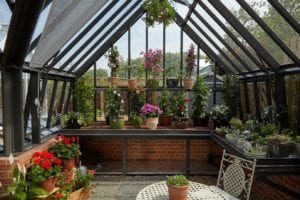 As ever, Griffin Glasshouses will be taking a stand and we can't wait to see how garden designers respond to what the September garden and planting options can offer.  RHS Chelsea show gardens are typified by their late spring and early summer-inspired planting schemes and so we predict that building gardens for the tail end of the summer season will offer up different challenges and a very different series of plant lists.
You'll be able to find Griffin Glasshouses on stand RHW611 on Royal Hospital Way. This is a position we have occupied for many years and we're looking forward to greeting back old friends and meeting new people at this year's show.
Another partnership that we are looking forward to reviving is working along with Chilstone to help build our stand again. At this year's show we will be building two glasshouses from our range Thyme and Lavender, along with a small panel sided glasshouse designed especially with smaller gardens in mind. We then landscape the stand around these main structures, dressing the stand with the help of our friends at Chilstone.
We were lucky enough to feature their stunning Octagonal Gothic Jardiniere as the centrepiece of our stand at RHS Chelsea 2018. This beautiful piece really helped show off our show stand to its best advantage, with it winning a highly coveted four-star trade stand award.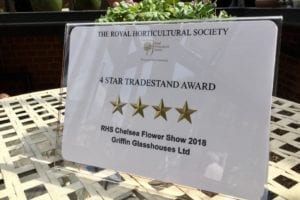 In 2015, we also collaborated with Chilstone at RHS Hampton Court Palace flower show, where garden designer Jean Wardrop of Wardrop Designs and Alexandra Stevenson worked with Yardley London and Perennial to build a beautiful rose garden for the show titled A Growing Obsession – the Yardley London Perennial Garden. These pictures here will perhaps give you a taste of how beautiful that garden was.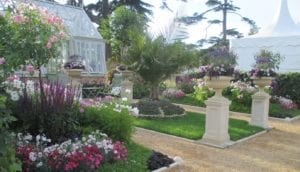 Designed to reflect the elegance and grandeur of a Victorian ladies' flower garden, the concept was inspired by the classic gardening book Instructions in Gardening for Ladies by Jane C Loudon. Not only did the garden feature one of our Thyme glasshouse, filled with exotics and ferneries, taking centre stage between Pulhamite rockeries, but it also featured balustrade and planters provided by Chilstone, framing the view and fitting the theme perfectly.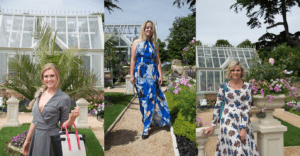 We were thrilled on Press Day to have captured photographs with lots of celebrities who came along to have a look at the show garden. Exciting times, and ones we hope to be able to repeat in the future.
We look forward to welcoming you to our stand in September!