Oct
2023
Help Horatio's Garden to Fundraise this October in Their Autumn Fundraising Art Auction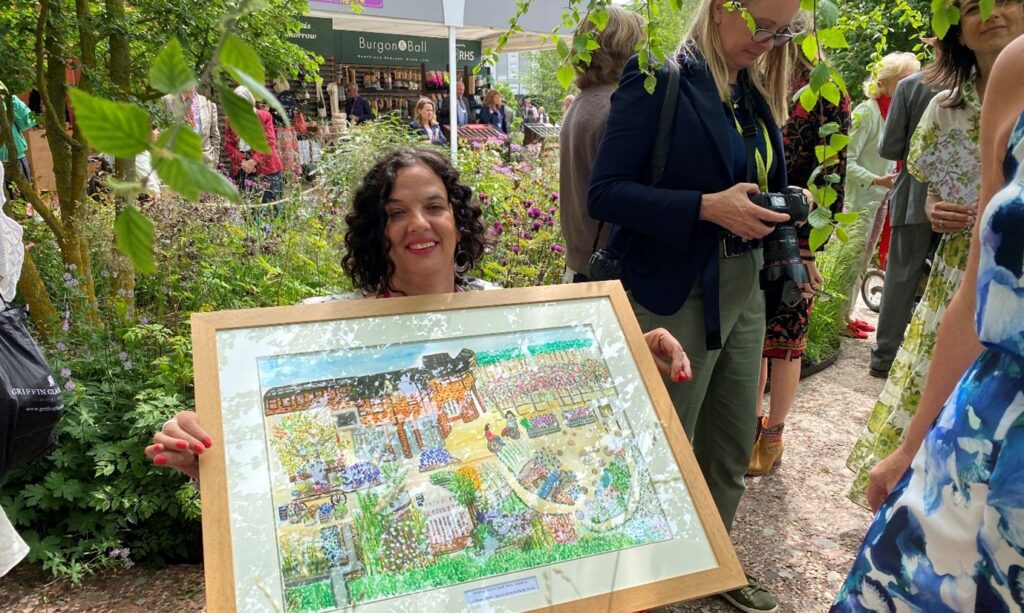 For anyone who knows us, Horatio's Garden is a charity we've been actively supporting for many years now. So it is without further ado that we invite you to participate in the big online art auction that will raise much-needed funds for this wonderful charity.
If you are a Griffin Glasshouse fan, and you have been following our story, you might recall our charity fundraising painting created at RHS Chelsea 2022 by 'Wonky Artist' Rachel Smith and presented to Horatio's Garden at RHS Chelsea 2023.
We handed over this beautiful piece of art in May this year, and it is a piece that has a creation story that is as colourful as the painting itself. We gathered celebrities from TV, film, radio and print to help contribute to this painting by Rachel that depicts the garden of the very first Horatio's Garden in Salisbury.
Horatio, after whom his parents named the charity, volunteered at the Duke of Cornwall Spinal Treatment Centre in Salisbury during his school holidays, and although Horatio's family were not to know at the time, this is where the charity's story began.  Rachel Smith is otherwise known to many on social media as The Wonky Artist, and spent time being cared for in a Spinal Injuries Unit following an accident that has left Rachel with a lifelong need for a wheelchair and she is currently an outpatient at the Oswestry SIU where there is another Horatio's Garden.  So it is fitting that this piece depicts the calm outdoor space that the Horatio's Garden in Salisbury brings for long-term patients on that ward.
All we needed to add a little extra colour to the three-quarters finished painting by Rachel, was to enlist the help of celebrities to finish off the piece. So bringing the painting to RHS Chelsea for Press Day last year was the perfect opportunity to be in a celebrity epi-centre to help us achieve our mission!
The painting has now been included in the Horatio's Garden Autumn Art Auction. Bids will open on the 13th of October and will remain open until the 29th of October where the art pieces on offer will help fundraise towards the charity's gardens' upkeep as well as to the build costs of the two in-build gardens at Belfast and Sheffield.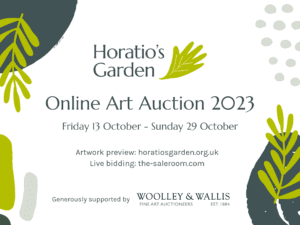 Over 70 of the UK's leading artists including Maggi Hambling, Sean Henry, Sophie Tea, Phoebe Dickinson, Sophie Ryder, Jill Berelowitz, Patrick Morales-Lee, Jemma Powell and Sir Quentin Blake have donated works, and so the catalogue is worth checking out to help you snap up a beautiful piece of art for your home that will be doing good for those that need support in the UK's Spinal Injuries Units. 
 ·         Find out more about the auction here: https://www.horatiosgarden.org.uk/fevents/horatios-garden-online-art-auction-2023/  
 ·         If you are considering donating, then do that here and you can help change the lives of people affected by spinal injury across the UK.
 If you would like to talk to us about this news piece, or you are thinking of commissioning a structure for your garden, then please get in touch with us on +44 (0) 1962 772512 or sales@griffinglasshouses.com.