Jun
2022
RHS Chelsea Flower Show Was Packed With Fundraising Events For Griffin Glasshouses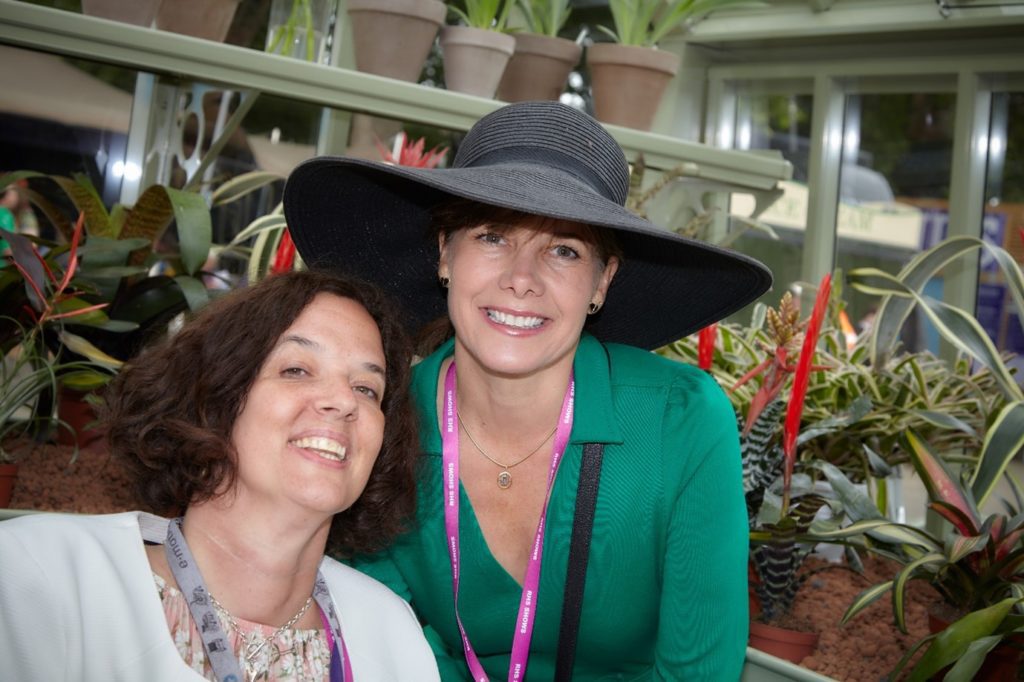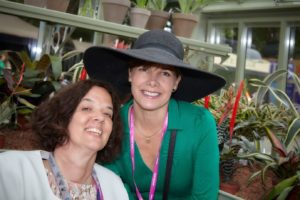 In our fundraiser for Horatio's Garden, the Wonky Artist was on hand to encourage celebrities at Chelsea Flower Show Press Day to contribute to her painting, which will be auctioned off in aid of the charity. Pictured: Rachel Smith and Dame Darcey Bussell.
Griffin Glasshouses have held a stand at RHS Chelsea for many years, and it's the biggest show in the horticultural circuit each year.  This year proved a bumper year showcasing the charities supported by Griffin Glasshouses, which made for a very busy Press Day!
We put together a charity fundraising event on Press Day at RHS Chelsea, held to help fundraise for Horatio's Garden who are a charity that design and build sensory gardens that are wheelchair and hospital bed friendly in Spinal Injuries Units across the UK.  The newest of the gardens at Llandough Hospital in Cardiff was unveiled just ahead of the Chelsea Flower Show and our fundraiser, in collaboration with 'The Wonky Artist', helped continue to showcase the work that this amazing charity does.
Press Day was a very busy day as a result with queues of celebrities contributing to the painting which we will now frame and present to Horatio's Garden along with certificates bearing the signatures of contributors to the piece.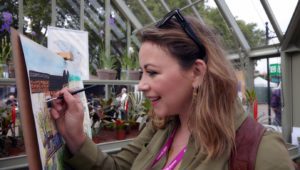 More than 20 celebrities helped contribute to the painting by The Wonky Artist on Press Day, including Charlotte Church pictured here, Dragon's Den's Deborah Meaden, Sue Holderness of Only Fools & Horse fame, presenters and broadcasters Alex Jones, Sophie Raworth, Vick Hope and Jo Whiley.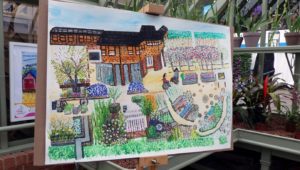 The finished painting will be framed and presented to Horatio's Garden for auctioning off as a fundraiser for the charity.
Griffin Glasshouses are also sponsors of this year's 2022 Missing Genera campaign by charity Plant Heritage this year.  The campaign for 2022 seeks gardeners who would like to put themselves forwards as National Collection holders for their focus plants for this year.
The top 12 missing genera plants for 2022 were revealed by Plant Heritage President Alan Titchmarsh at the show, and includes Argyranthemum, Aruncus, Campanula, Filipendula, Festuca, Knautia, Pittosporum, Silene, Spirea, Stachys, Vinca and Zantedeschia.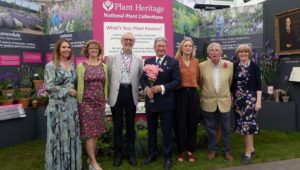 Plant Heritage's President Alan Titchmarsh helped launch the 'Missing Genera' campaign at RHS Chelsea Flower Show, a campaign sponsored by Griffin Glasshouses.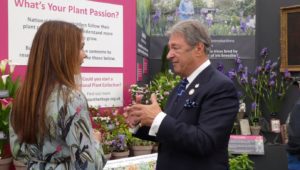 The 'Missing Genera' campaign includes Campanula, Silene, Spirea and the stunning Zantedeschia, so Plant Heritage are calling out for gardeners interested in hosting a National Collection, asking them to step forward.
 We are long-term partners of the National Gardens Scheme, and have an NGS collection of glasshouse in our range.  5% of the profits for every glasshouse sold is donated to the NGS, and this year we were able to present our biggest cheque ever for £25,000 which will provide a boost to the fundraising efforts of the NGS this year.
Jo Whiley is a new Ambassador for the NGS and came along to receive the cheque, along with CEO George Plumptre. The pair also spent some time contributing to our Horatio's Garden fundraising paint too!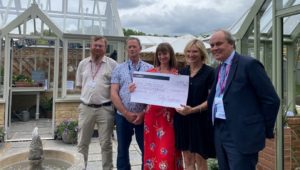 Griffin Glasshouses' largest donation to the National Garden Scheme to date was received by NGS Ambassador Jo Whiley and CEO George Plumptre.
We welcomed people onto the stand throughout the show, keeping us busy all week.  All in all, we had a packed RHS Chelsea this year, and we can't wait to return in 2023!
 If you would like to talk to us about any of our fundraisers, then please get in touch with us on +44 (0) 1962 772512 or sales@griffinglasshouses.com. You can come and visit Griffin Glasshouses on stand RHW611 during RHS Chelsea Flower Show, 24-28 May 2022.