May
2022
ALMOST THERE IN THE GREENHOUSE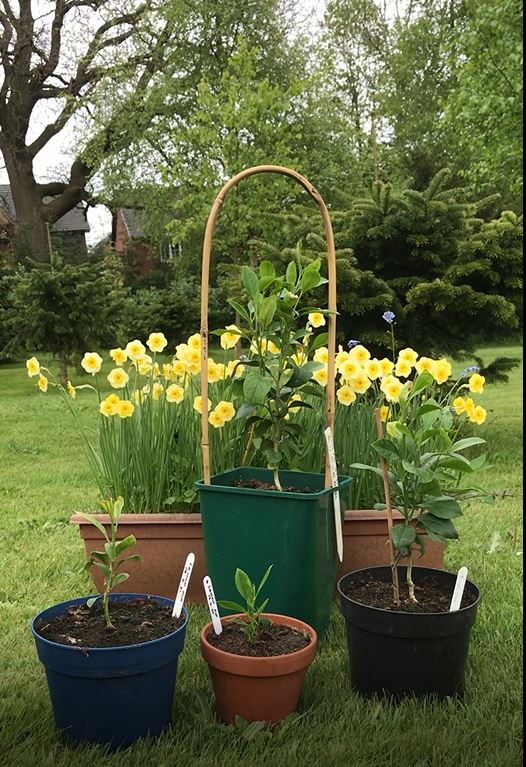 Linda Lane is the managing director of the family business Griffin Glasshouses.  All the evidence is that the grow you own revolution continues apace across Britain and she wants to share with you some tips for growing better in May
It can be a challenging month because of the weather which spins on a sixpence from hot to frost.   I always listen to the weather forecast just in case the vegetable plants being hardened off outside need taking back into the greenhouse for a warmer night.
On the other hand, some plants, particularly recently potted on ones, may need shading from hot sunshine.  So be guided by the weather.  Ventilation is extremely important all plants do need a good flow of fresh air. But remember to close up doors and fully open windows at night.
I shall be planting out the tomato, sweet pepper and aubergine plants in the greenhouse.  The tomatoes and peppers go directly into the soil and the aubergine into large pots.   Thoroughly water the soil BEFORE planting and, if they are growing in pots, make sure they too are well watered before you begin planting out.
Feeding is absolutely essential in May particularly for tomato plants, once the first flowers have emerged.   Use one of the proprietary tomato feeds.   Slow release fertilisers around the aubergine and sweet pepper plants will ensure they receive a regular supply of necessary nutrients.    This is particularly important if you use grow-bags as the roots cannot reach out to find nutrients in the soil.
The various brassica plants and other vegetables were all potted on early last month and must be watered and fed regularly.   They are being hardened off in the cold frame with the lid open.  But I always listen to the forecast and close it up at nights when frost is mentioned.   I usually put them into the garden towards the end of May.
If you have potatoes in grow bags in the greenhouse you must keep them well watered and remember to keep topping up with compost as the leaves emerge.  I've grown Scarlet Emperor and Lady Di runner beans and before I plant them outside it is a constant battle to stop their runners twisting around each other – but it is absolutely necessary.  Like the brassicas, they live outside from early May, unless frost is forecast.
Pest control is also important in May.  All sorts of beasties want to gorge on you lovingly grown vegetable plants.  Keep a weather eye open for them and treat as necessary.
On hot days the temperature in the greenhouse can become astonishingly high and those plants inside will require regular watering.  Make sure you don't wet the leaves and always keep cans of water inside the greenhouse, in the shade, so the water is at room temperature.  I have four lemon plants that have been grown from pips.  It is important not to waterlog the roots but they do need some moisture – and feed.  Buy a proprietary lemon feed but make sure it is for summer use.  It is usually sold for spring and summer use and a separate one for autumn and winter, so make sure you pick up the right one.
You should be harvesting some lettuce that have been grown in the greenhouse and they too need regular watering.  Finally, cucumbers.   My seeds failed to germinate this year, goodness knows why.  So I had to buy plants.  I shall grow them in big pots in the greenhouse with plenty of climbing support and regular feeding and watering.  More news next month – I hope.
Happy gardening,
Linda