Winter makes work for idle green-fingers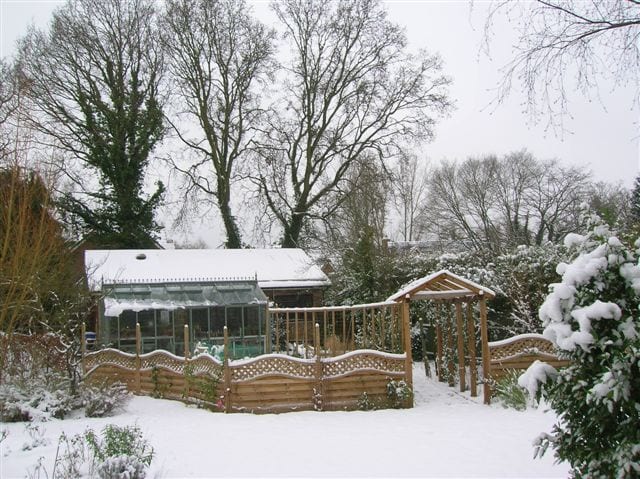 When the crisp autumnal mornings have past, and the long, hot days of summer are distant memories, the winter blues can often set in. Particularly for gardeners. A greenhouse can be a great way to keep green-fingers working all year round by extending the growing season and offering protection to plants.
Winter needn't mean the end of crops and the end of gardening. According to leading greenhouse manufacturer, Griffin Glasshouses, the first task is to have a clear out to remove traces of the previous seasons' hard work. "Use this down-time in the gardening calendar to have a clear out; replenish compost supplies, throw out any broken pots, and have a thorough clean using disinfectant. It's vital to remove any pests or disease that might impact upon your plants the following spring," said Linda Lane, managing director.
Reduced hours of daylight in winter mean it's necessary to maximise every opportunity for light to get into the glasshouse to help plants grow so be sure to clean the glass, as well as clearing guttering ready for any rain or snow.
When it comes to growing, winter is a great time for potting and getting seedlings ready. They can be brought in from the cold and then left to germinate in the glasshouse. When starting new seedlings there is no need to heavily water like you may do in spring or summer, simply lightly moisten the soil.
It is a good time to grow leafy crops such as salads, as well as being a perfect opportunity to get sweet peas and broad beans sown. Citrus plants, particularly lemon trees, take well to winter glasshouse growing as they can withstand cold temperatures. Another star winter plant is a cyclamen which benefits from a cold spurt to boost its health and extend its flowering period. Hardy seeds, wildflowers, alpines and perennials all flourish from winter growing under glass too.
Griffin Glasshouses are made to the exact specification of its customers and utilise leading technology within the industry to meet these requirements. For this reason, insulation and heating systems can be implemented to offer maximum protection to plants. To further this, pots can be wrapped in bubble wrap as well as using heated propagators and horticultural fleeces to protect plants which are particularly volatile. But, whilst the thought of opening a window and letting the heat out might seem absurd, Griffin recommends doing so to boost ventilation as Linda explains: "Even in the darkest depths of winter, glasshouses can become very warm and humid. The humidity can then cause problems for plants and become a breeding ground for disease and pests so, if you don't have a Griffin system, then be sure to open a window or even the door for a short while once in a while to let in the fresh air."
ENDS
No: 18/210
For further media enquiries please contact Holly Daulby at Paskett PR on 01332 258 335 or email hollydaulby@paskett.co.uk.
Heart of Glass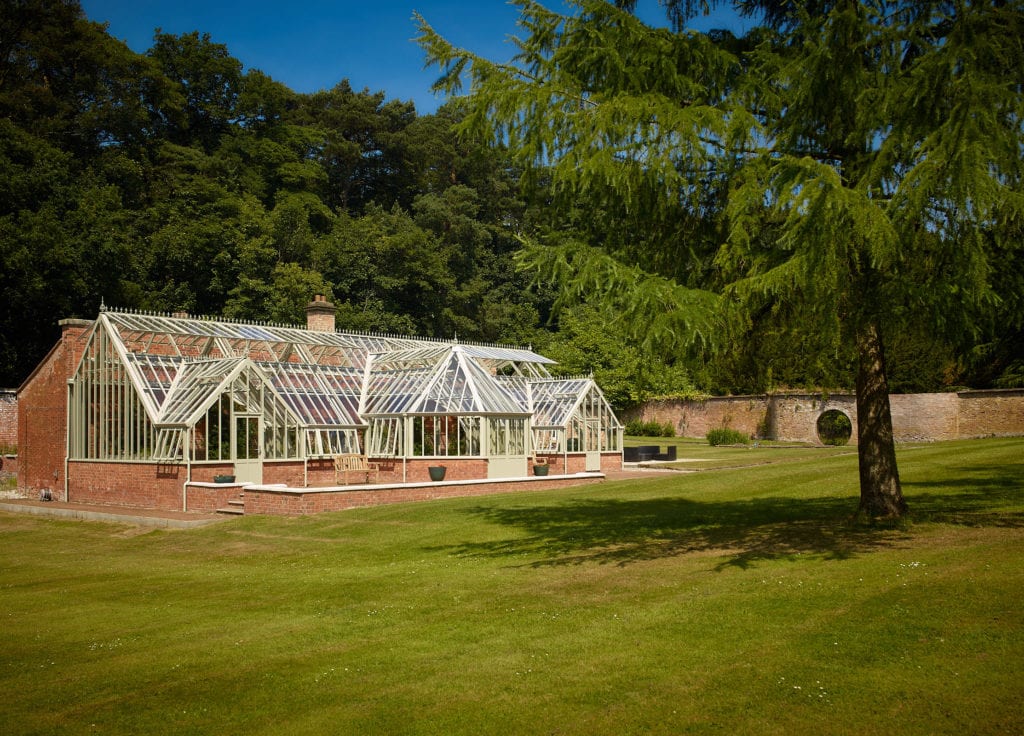 Glasshouses have long been a sign of status and luxury. Traditionally glasshouses were built to serve a purpose when used to home exotic plants and create climates they were familiar with. They were a purely functional space for growing plants and providing a means of protection and climate control for plants to thrive. In time, this has evolved.
Growing is still an important reason for owning a glasshouse, but style has become a key decision-making factor for customers wanting their glasshouse to be a stunning feature sitting in the heart of their garden. Of course, glasshouses still retain their traditional purpose for growing but for some customers, style is now just as important.
Glasshouses have become high-end, luxury items that people desire to have sitting proudly in the garden as a show piece feature. Linda Lane, MD of Griffin Glasshouses explains: "For a lot of our customers, a glasshouse is a real investment that they have dreamed of owning for years. They want it to be absolutely stunning and a big feature in the garden. We understand that a new glasshouse is usually a once in a lifetime purchase, so work with each client to make sure their glasshouse is the stylish, elegant vision they've always dreamt of."
The shift from function to stylish has evolved as a result of many factors, popular tastes being one, but technology and design have also played their part. The first step in this in the manufacturing of the aluminium used to construct the glasshouse. This is coupled with hot dipped galvanized steel to maintain the appeal of a traditional wooden structure, but without any of the maintenance issues. There have also been significant advances for example with systems for heating, ventilation and irrigation which can be selected to manage the glasshouse without the need for human intervention whilst giving peace of mind that everything is under control and well cared for.
Since its formation 50 years ago, Griffin Glasshouses has been sat at the forefront of embracing trends and harmonising this with traditional glasshouse design. This is demonstrated in its offering of a variety of colours to complement the different styles requested. Linda continues: "Customers often ask us to match a particular colour and we can powder coat your glasshouse in any shade you like. So, whilst most people opt for the muted tones of pebble, ivory or moss, if you want us to make yours fiery red to match your chilli collection or magenta to set off your prized pelargoniums, we can certainly do that to make a real centrepiece at the heart of the garden!"
Each Griffin glasshouse is distinctly different and, due to bespoke nature of each order, the type of glasshouses the company has built in its 50 year history ranges greatly, whilst always offering practical solutions for gardeners' needs.  From smaller, more traditional lean-tos to stunning, elaborate 5.5 metres by 19 metres which was a traditional ¾ span with three porches and a central raised octagonal porch.
For more information about Griffin Glasshouses, please visit www.griffinglasshouses.com.
ENDS
No: 18/231
For further media enquiries please contact Holly Daulby at Paskett PR on 01332 258 335 or email hollydaulby@paskett.co.uk.
What to grow in the greenhouse now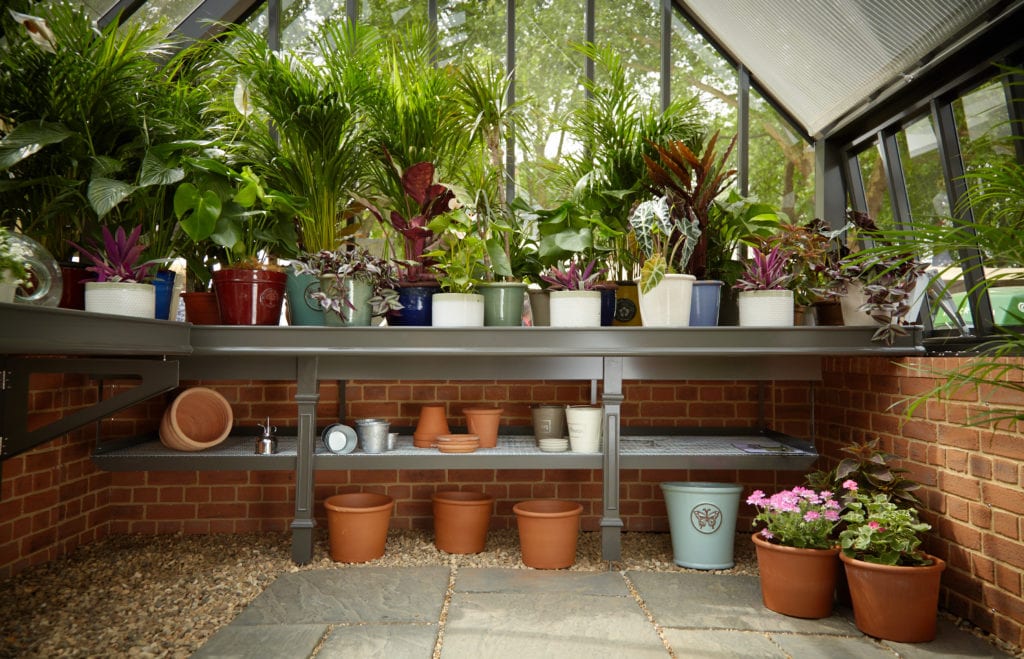 Hopefully by this time of year your greenhouse is full of bountiful crops and an abundance of plants! August is largely a time for reaping the rewards from the work you put in earlier in the year, however there is always scope for planting something new to get a head start on the following season.
You can sow broad beans and peas so they can over-winter, ready to be planted out into early spring. You can also sow hardy winter lettuces and pea shoots which will be ready for harvesting in spring. It's also a good time to move any herbs indoors if you have them growing in pots – it will keep them cropping longer. Alternatively, parsley and coriander can still be sown and will grow well under glass throughout winter.
Winter-flowering pansies can also be sown in August, as well as violas so they can over-winter and put on a real show of colour in the spring.
You can also plant potatoes in pots and you'll hopefully have spuds in time for Christmas!
When working in greenhouses in the summer heat it is necessary to take as many precautions about protecting yourself as the plants. In sunny weather, be sure drink lots of water and be careful not to burn!
The plants growing at this time of year all need careful watering regimes, depending on what they are. The very best time to water is once the sun is off the structure in the evening. Don't be stingy with the hose and give them a very thorough drink. Watering in the evening is very beneficial: it cools plants down before nightfall and ensures that the moisture is not lost through evaporation, which is precisely what happens when you water in the early morning before the sun is on the plants.
If early morning watering is absolutely necessary, then do make sure not to wet the foliage because it will not have dried off before the sun hits the plants and risks scorching them. Another tip is to leave full watering cans inside the greenhouse overnight so that they reach a warm temperature, and this can be used for those plants that do really need a drink before the evening.
New NGS greenhouses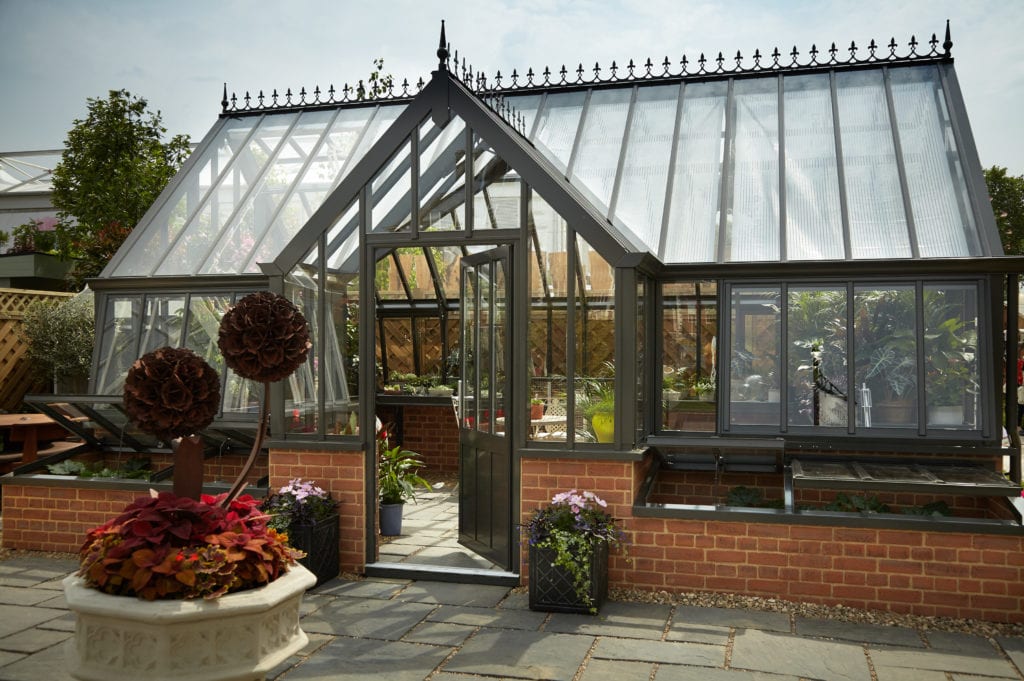 Traditionally, Griffin's greenhouses are tailor-made for each customer and no two greenhouses are the same. However, alongside our bespoke models we have our National Garden Scheme (NGS) collection. The NGS range is our first ever collection of free standing greenhouses for the keen gardener. Each model represents excellent value for money, features beautiful design and includes a 5% donation of the proceeds from the sale to the National Garden Scheme.
Previously the range consisted of five models – Sorrel, Thyme, Fennel, Sage and Rosemary – but we recently expanded this with the addition of two new NGS greenhouses, Lavender and Tarragon.
The two new models have been created following our observations that customers are increasingly preferring larger structures. Therefore, Lavender measures 3.6m x 6.5m, and Tarragon is the largest in the range at 3.6m x 8.1m. Both have a full porch and Tarragon has a double door to offer more space for growing, or even entertaining,
A very busy summer!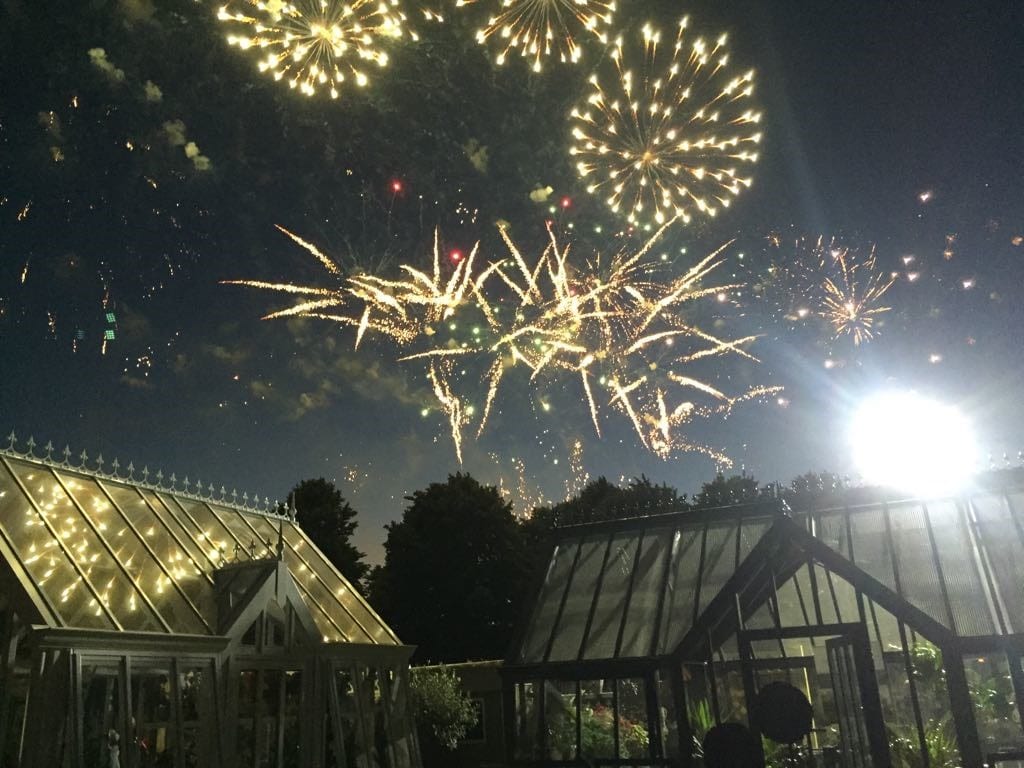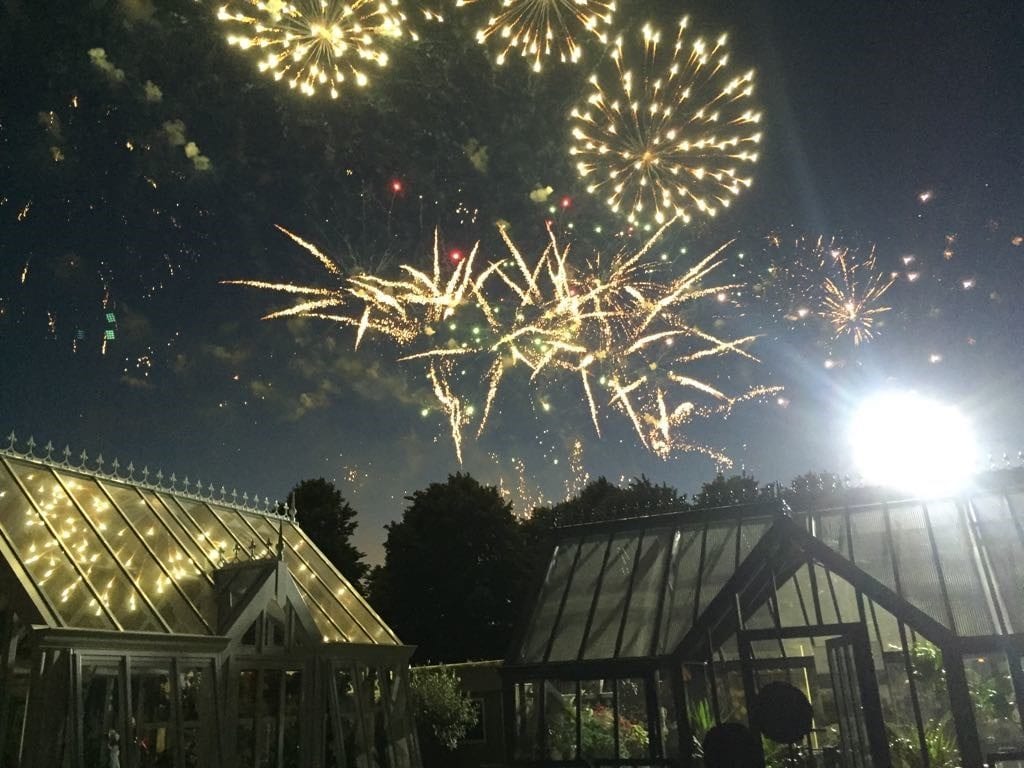 We love the summer, not just because it means sunshine, blue skies and longer days in the garden, but because it also means we get to head out to shows and meet our customers.
Due the size and scale of our products, and the fact that each one is bespoke and hand-crafted, it can be tricky for us to show off our creations. That makes the shows even more special for us as they become our showrooms and we have customers who wait all year round to come and see us – it's so lovely to be able to finally meet people who we've been in contact via phone and email with for months! Not only that but it's always great to meet new customers and introduce them to our company.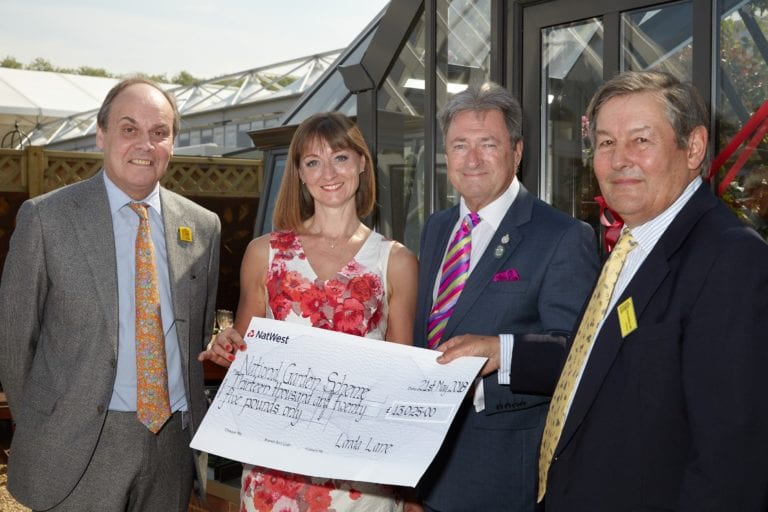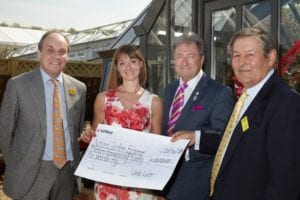 The show season kicked off for us in May when we exhibited at the RHS Chelsea Flower Show. A highlight in the horticultural calendar, Chelsea is always a fantastic week. It all started for us on the press day on the Monday when Alan Titchmarsh launched our new NGS designs. Whilst he was on our stand, Alan joined us in presenting a cheque for £45,000 to NGS chairman Martin McMillan OBE and chief executive officer George Plumptre, which is the total raised from all sales from our NGS collection since its launch.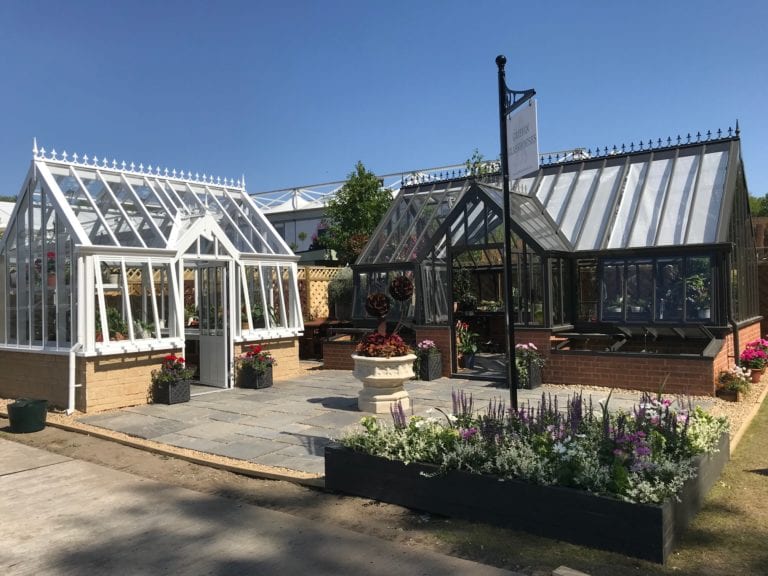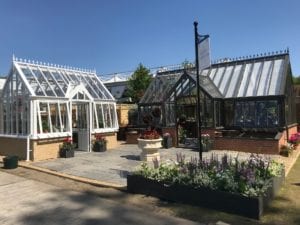 Next we headed up to Derbyshire for the second ever RHS Chatsworth Flower Show. It's safe to say that last year's show was somewhat on the wet side! But fortunately the flood warnings and washed out fields of last year were not to be seen! And finally, we rounded it all off with a lovely week at Hampton Court. We enjoyed stunning weather at all of the shows this year and it certainly helped show visitors to see our products at their best.
Growing under glass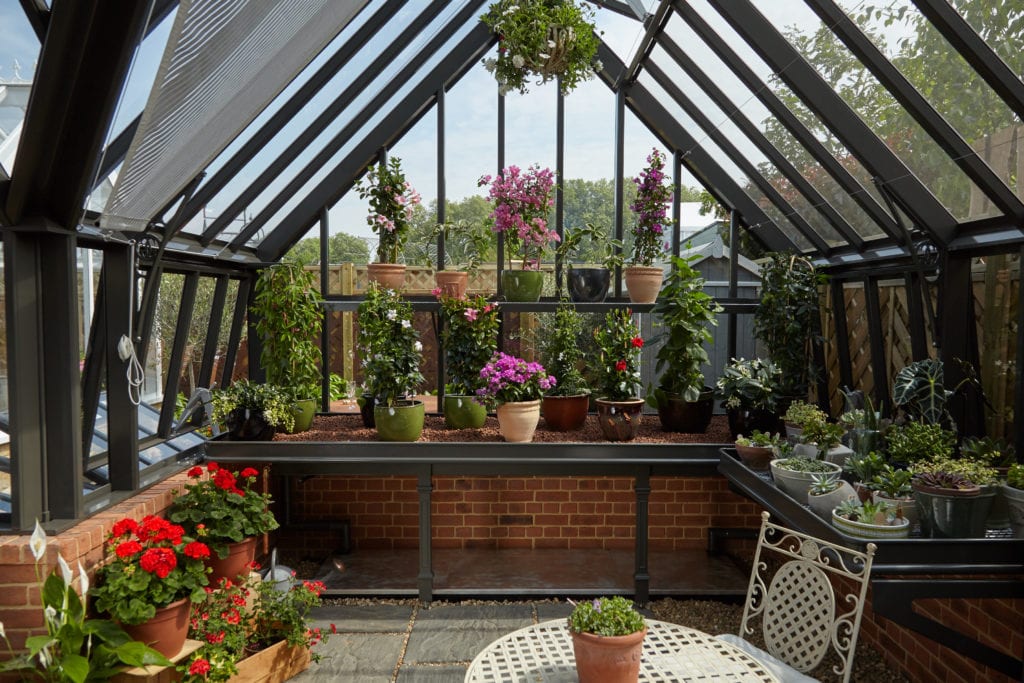 Growing under glass grants gardeners a means of controlling temperature to maximise healthy plant growth whilst also providing plants protection from the elements. It also means that gardening can happen all year round, no matter the weather! However, choosing the best structure can often be a challenge and there are many options available.
Glasshouses have long been a key feature in British gardens, nestled in the heart of growing spaces, providing a home for horticulture all year round.  Traditionally, their purpose was to create a warm climate to replicate the temperatures and natural surroundings that tropical plants, brought home by sailors and explorers, were used to. In time, this has evolved with changes in technology and style and glasshouses now add a touch of class to gardens as a freestanding feature away from the home.
Greenhouses serve the same purpose as glasshouses but traditionally utilise other materials (though the terms greenhouse and glasshouse are often used interchangeably). Glass however can enhance insulation which in turn boosts plant growth.  As well as being more environmentally friendly than plastic alternatives, glass also offers better clarity and views as plastic and other alternatives can deteriorate and not stand the test of time like glass. Therefore, a glasshouse is certainly an investment for the future. To reiterate this, Griffin Glasshouses offer a lifetime structural guarantee on its products.
Griffin Glasshouses, with 50 years of manufacturing bespoke glasshouses, creates structures that are shaped to meet the specific requirements of each customer and each garden. Its services and advanced technology ensure maximum light enters the glasshouse and that the perfect conditions are created for plants. These systems include shading, heating, fully automatic ventilation and irrigation.
Unlike glasshouses and greenhouses, which stand away from the property, there are also options for extending properties to add growing spaces. Typically, these take the shape of conservatories and orangeries, the difference being linked with bases and roofs. Conservatories were traditionally used for growing shrubs and herbs, but are now seen as more of a living space. Attached to the home, these rooms usually have complementing décor both internally and externally to match the rest of the home. They usually have glass panes side by side, with low brickwork and a pitched roof.
Conversely, orangeries have more brickwork and less glass with window panes often separated from each other. They tend to have a brick base with a flat glass roof, with a raised lantern in the centre. Often thought to be more grand and luxurious, orangeries are rapidly becoming a popular choice.
Other non-permanent buildings include polytunnels, which are walk in tunnels covered in polythene with entrances at either end, that trap heat to encourage plant growth and coldframes. Coldframes are a large boxed area with a glass lid that act as a "mini glasshouse", these are used for germination and hardening off plants. A key benefit of coldframes is how they can be integrated into glasshouse designs to be a complementing extension of the growing space, a service which Griffin Glasshouses offers.
SPF for plants this summer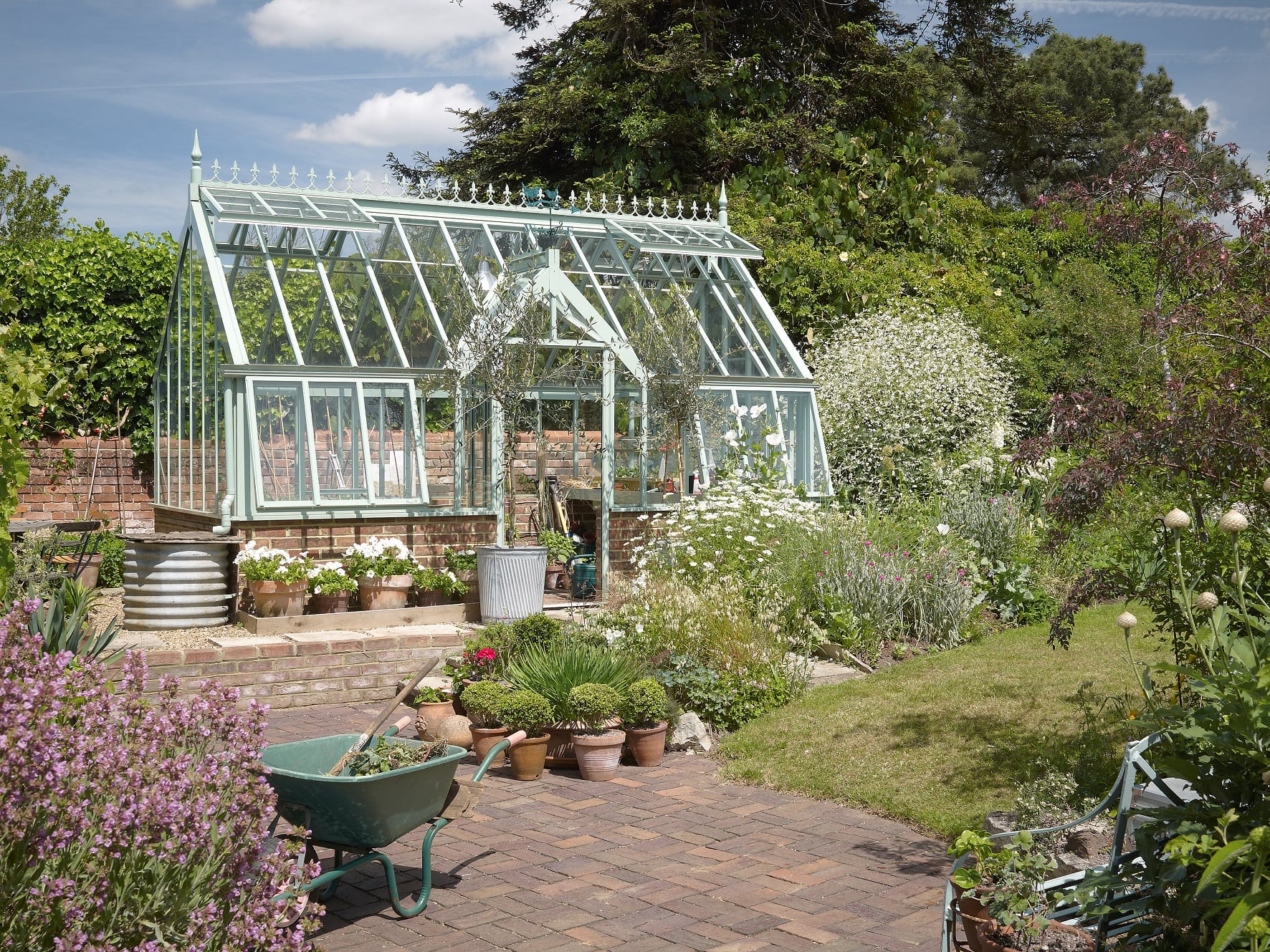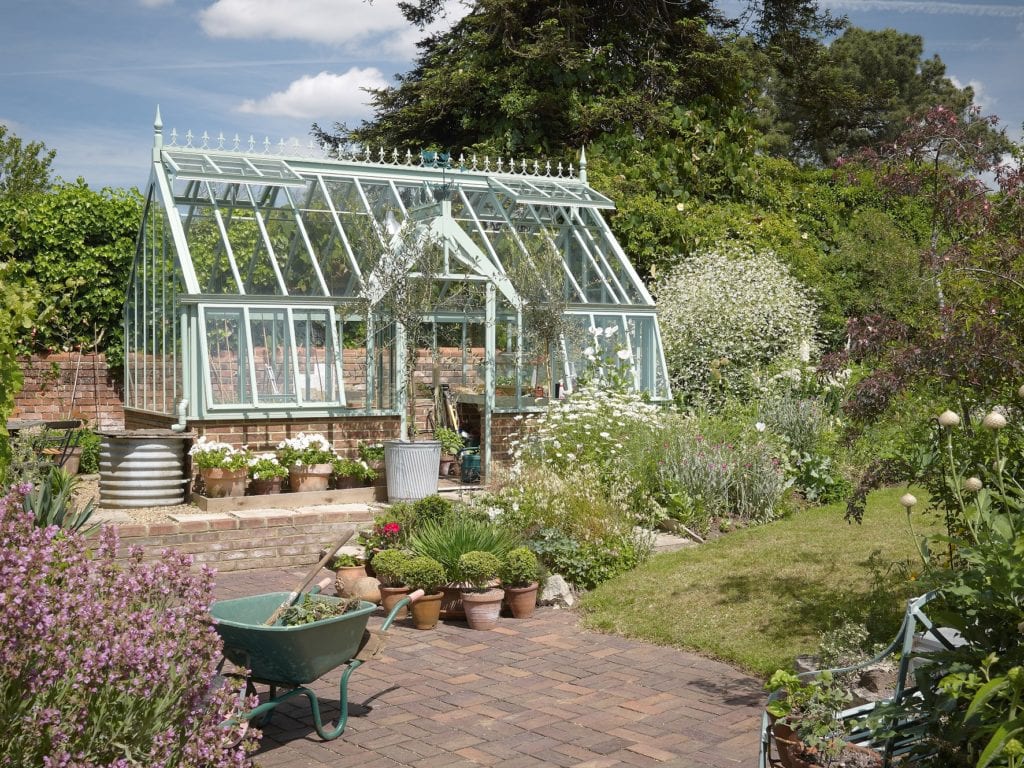 The sun's rays can not only cause damage to humans but also to plants.
Just like people, plants can experience sun damage. And whilst they might not turn the same shade of red as we do when sunburnt, the damage is evident on what is essentially their skin. Excess light exposure can cause the leaf tissue to burn up causing discolouration, which can be particularly damaging to young plants.
Whilst plants of course need the sun as part of the photosynthesis process it is also vital to give them protection from the sun too. A glasshouse is therefore a perfect means of protecting plants from harmful UV rays as it can provide shelter from direct sunlight, whilst also offering a means of ventilation and even irrigation.
Shade and ventilation are a vital factor when purchasing a greenhouse, as they provide ways of stopping plants from overheating. Ventilation controls the environment by boosting air circulation which in turn prevents a dry atmosphere and stops the plants overheating.
Griffin Glasshouses recommend that each greenhouse has the equivalent ventilation to 25% of the floor area. Bespoke greenhouses from Griffin are designed to maximise ventilation using the very best ventilation systems in the industry.  By utilising ridge and eaves gutter design the company can tailor ventilation needs to the exact requirements of each customer – and their plants. For example, full length ventilators can be installed to both the side and roof to maximize the openings and provide a through-flow of air. There is also the option of hand or fully automatic ventilation to give peace of mind that air is always circulating, even in your absence.
Glasshouses were originally created to create a warm climate to replicate the temperatures and natural surroundings that tropical plants were used to, and these hot temperatures mean that watering is vitally important within a glasshouse. When the leaf temperature rises it can cause tissue damage, this can be easily prevented with regular watering which lowers the temperature by keeping water moving through the plant. Another means is to create a humid atmosphere, which can be done by damping down which is the simple process of pouring water onto the glasshouse floor. If you do this first thing in the morning the water will then evaporate, creating humidity throughout the day.
With more than 50 years' experience in the industry, leading glasshouse specialist, Griffin Glasshouses,  offers a range of low-maintenance, unique design glasshouses from lean-to, free-standing, to its NGS collection.  Each glasshouse is hand-crafted at the company's Hampshire site. 
ENDS
No: 18/137
For further media enquiries please contact Holly Daulby at Paskett PR on 01332 258 335 or email hollydaulby@paskett.co.uk.
New charity greenhouse collection to be unveiled by Alan Titchmarsh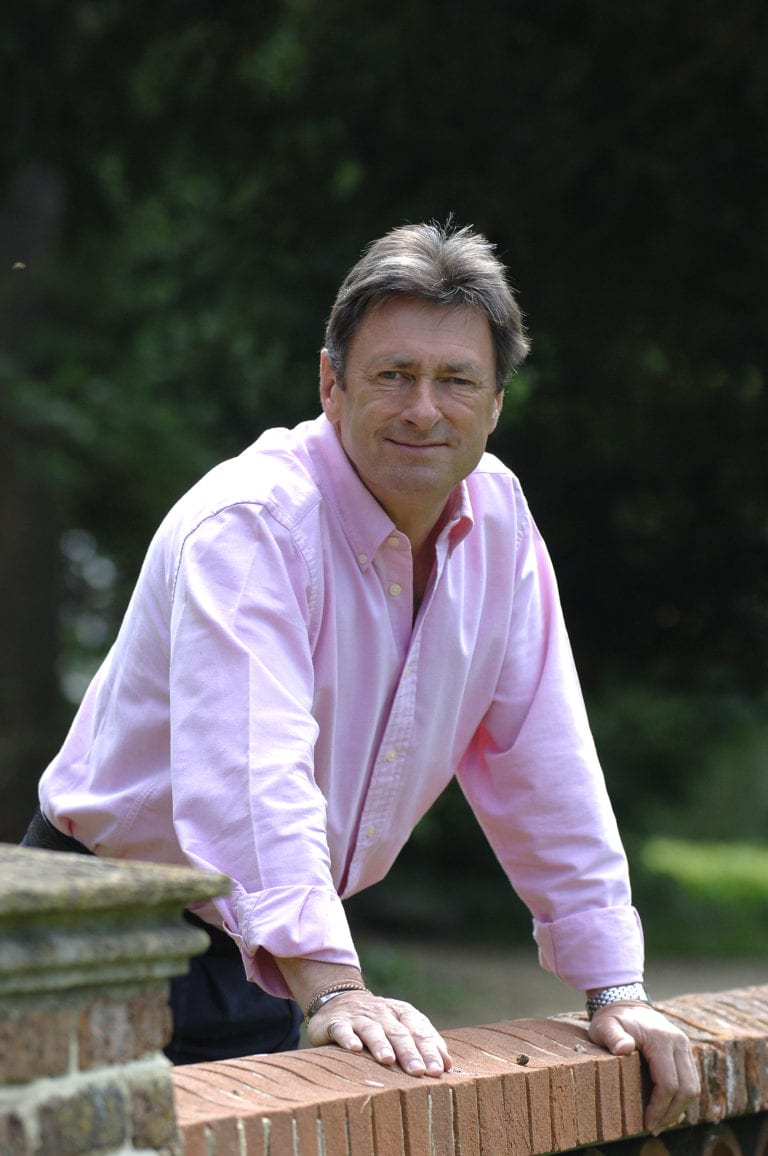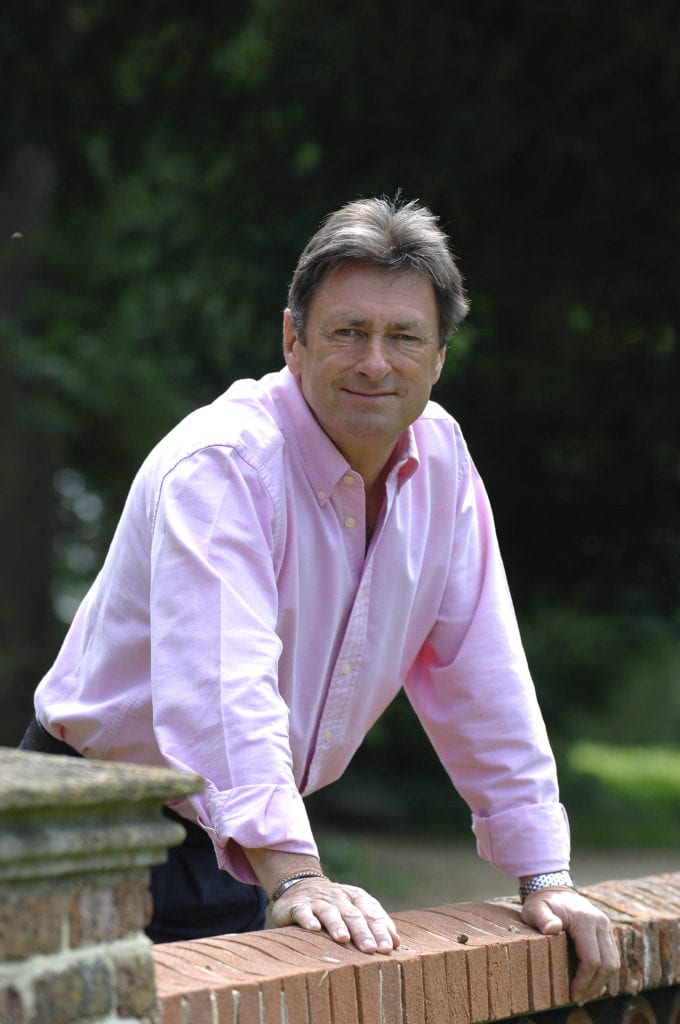 Griffin Glasshouses has announced plans to launch two new greenhouse designs and gardening favourite Alan Titchmarsh will be officially unveiling them at the RHS Chelsea Flower Show in May.
The new models are an expansion of the incredibly popular NGS range of greenhouses that Griffin launched six years ago to support the leading gardening charity which is the most significant charitable funder of nursing and caring charities in the country.
The specialist greenhouse designer and manufacturer has supported the NGS since 2012 and the new Lavender and Tarragon are the latest additions to the exclusive range, which sees 5% of proceeds being donated to the charity. To date Griffin Glasshouses has donated £45,099.08.
The Lavender will be on the stand at the Chelsea Flower Show, retailing at £28,000. It measures 3.6m x 6.5m. The second of the new models is The Tarragon, which, including its double door, is the largest in the entire Griffin NGS range measuring 3.6m x 8.1m, prices starting from £34,000. The NGS range currently consists of five other models – The Sorrel, The Thyme, The Fennel, The Sage and The Rosemary.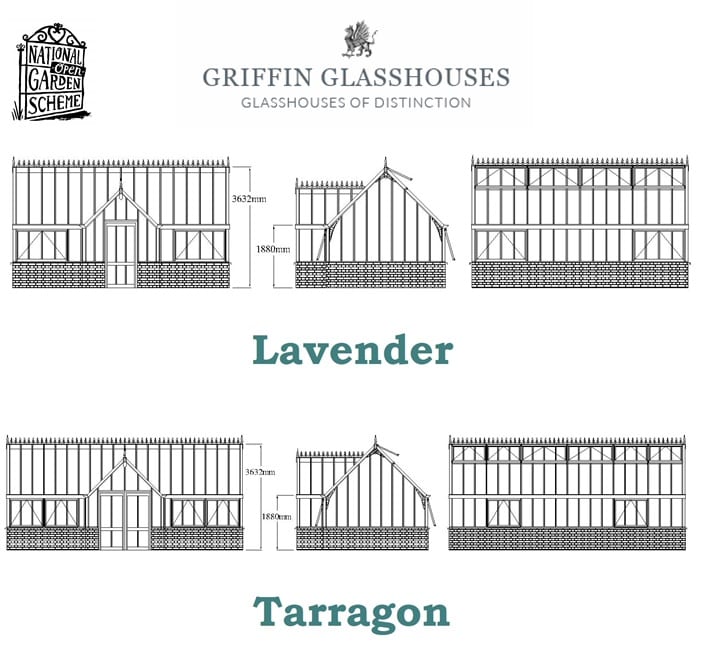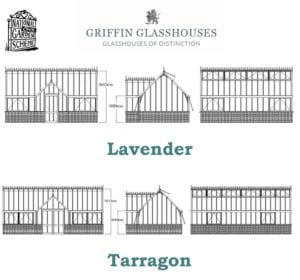 Both designs are free standing with a porch. Greenhouses in the NGS collection are produced in the traditional Victorian style which Griffin is famed for, with steep pitched roofs, narrow glazing panels, decorative spandrels inside and finished with exquisite detail to the ridge fittings and finials. They are made by Griffin Glasshouses at its Hampshire workshop using the highest quality, maintenance free aluminium that is specifically designed to the give the appearance of traditional wood.
Speaking about the new products and their launch, managing director of Griffin Glasshouses, Linda Lane, commented: "We can't wait to unveil our new products at the Chelsea Flower Show with Alan Titchmarsh. We've been so delighted by the reaction to the existing NGS range that we were keen to expand it as soon as possible and what better platform than the world-famous Chelsea Flower Show."
The NGS was founded in 1859 and has grown to be the most significant charitable funder of nursing and caring charities in the country, donating over £50 million so far, through money raised via its open gardens programme. Currently, more than 3,700 gardens nationwide open their gates for the NGS each year.
As well as the Chelsea Flower Show, Griffin Glasshouses will also be exhibiting at the RHS Chatsworth and Hampton Court Flower Shows where visitors will be able to see the new NGS designs.
For more information about Griffin Glasshouses, please visit www.griffinglasshouses.com.
ENDS
No: 18/131
For further media enquiries please contact Holly Daulby at Paskett PR on 01332 258 335 or email hollydaulby@paskett.co.uk.