Oct
2018
Wheelchair friendly greenhouse at Stoke Mandeville's Horatio's Garden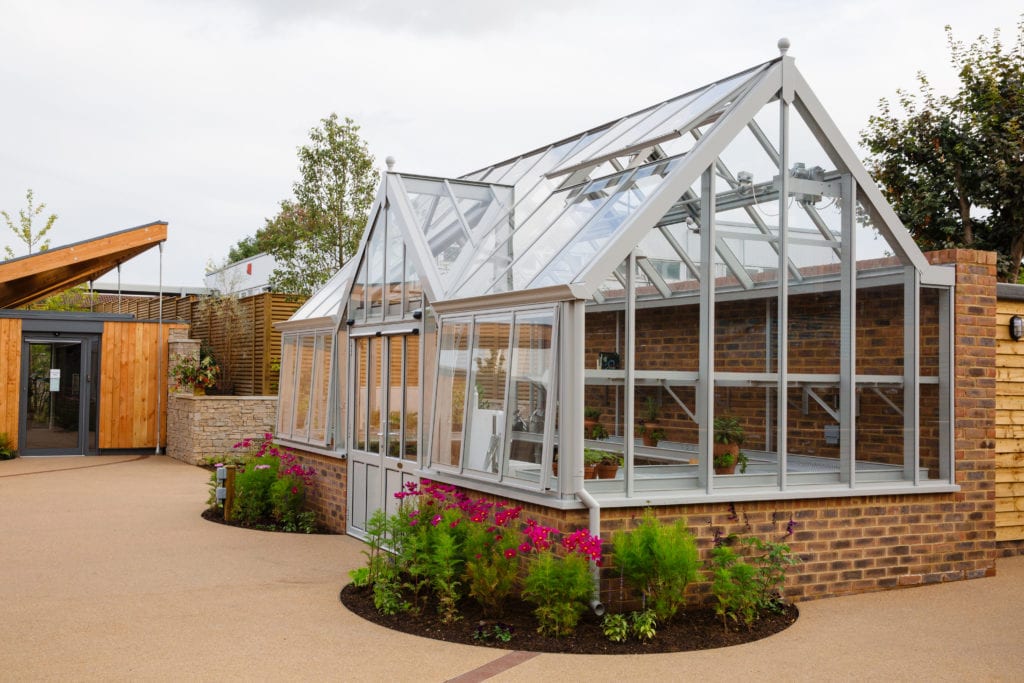 The wheelchair friendly greenhouse that forms a centre piece of a recuperation garden at the Stoke Mandeville Spinal Injury Centre has been welcomed as a key element in the new facility.
Dr Olivia Chapple, the Founder and Chair of Trustees for the Horatio's Garden Trust, told Linda Lane, Griffin's Managing Director, that it provides a major boost to the garden enabling patients and visitors to enjoy it, regardless of the weather.  It also allows patients to participate in active garden projects to aid their recovery.
The Stoke Mandeville Horatio's Garden is the third, following others in Salisbury and Glasgow.  They commemorate Horatio Chapple, Olivia and David Chapple's son, who, before his death, was working as a volunteer and raising money to create a garden at The Duke of Cornwall Spinal Injury Centre in Salisbury, where his father is a spinal surgeon.
Salisbury is the site of the first Horatio's Garden that was designed for the trust by Cleve West.  The second garden, opened in August 2016, is at the Scottish National Spinal Injuries Unit at the Queen Elizabeth University Hospital in Glasgow.  It was designed by James Alexander-Sinclair.
Work is due to begin shortly on the fourth Horatio's Garden at the Midland Centre for Spinal Injuries in Oswestry.  This will be designed by Bunny Guinness and, like Stoke Mandeville, will feature a Griffin glasshouse.  A fifth installation is planned for London and Linda Lane has offered the trust to continue to provide similar glasshouses at Future Horatio's Gardens under the same funding package.
The Stoke Mandeville garden cost more than £1 million, all of which was raised by volunteers.  The National Garden Scheme donated £130,000.
Dr Chapple said: "Patients stay at the unit for an average of five months, but often considerably longer, and often they are a long way from home.  The garden, its glasshouse and garden room, enables patients to get out of the hospital and into the fresh air on their own and with family members.  It is somewhere to relax away from the paraphernalia of hospital wards.  Patients face hugely complex and often life-changing injuries and the garden, and its facilities, provide an oasis of peace and calm.  This is vitally important and all research shows that being in a garden does improve recovery and well-being."
The greenhouse has been specifically designed by Griffin to allow full wheelchair access.  Some patients link with head gardener Jacqui Martin-Lof on gardening projects and the work benches in it have been deliberately shaped and positioned to give wheelchair bound patients easy access.
Jacquie added: "I also invite local schools and volunteer groups to work in the glasshouse and we are planning a number of classes for them and patients including flower arranging and more specific horticultural tasks."