Oct
2018
Winter makes work for idle green-fingers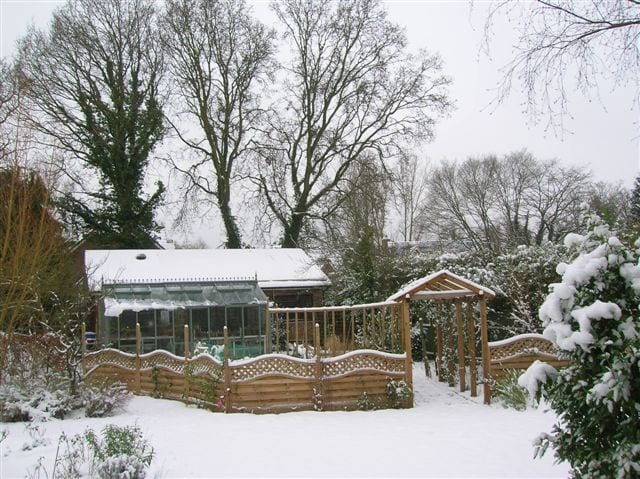 When the crisp autumnal mornings have past, and the long, hot days of summer are distant memories, the winter blues can often set in. Particularly for gardeners. A greenhouse can be a great way to keep green-fingers working all year round by extending the growing season and offering protection to plants.
Winter needn't mean the end of crops and the end of gardening. According to leading greenhouse manufacturer, Griffin Glasshouses, the first task is to have a clear out to remove traces of the previous seasons' hard work. "Use this down-time in the gardening calendar to have a clear out; replenish compost supplies, throw out any broken pots, and have a thorough clean using disinfectant. It's vital to remove any pests or disease that might impact upon your plants the following spring," said Linda Lane, managing director.
Reduced hours of daylight in winter mean it's necessary to maximise every opportunity for light to get into the glasshouse to help plants grow so be sure to clean the glass, as well as clearing guttering ready for any rain or snow.
When it comes to growing, winter is a great time for potting and getting seedlings ready. They can be brought in from the cold and then left to germinate in the glasshouse. When starting new seedlings there is no need to heavily water like you may do in spring or summer, simply lightly moisten the soil.
It is a good time to grow leafy crops such as salads, as well as being a perfect opportunity to get sweet peas and broad beans sown. Citrus plants, particularly lemon trees, take well to winter glasshouse growing as they can withstand cold temperatures. Another star winter plant is a cyclamen which benefits from a cold spurt to boost its health and extend its flowering period. Hardy seeds, wildflowers, alpines and perennials all flourish from winter growing under glass too.
Griffin Glasshouses are made to the exact specification of its customers and utilise leading technology within the industry to meet these requirements. For this reason, insulation and heating systems can be implemented to offer maximum protection to plants. To further this, pots can be wrapped in bubble wrap as well as using heated propagators and horticultural fleeces to protect plants which are particularly volatile. But, whilst the thought of opening a window and letting the heat out might seem absurd, Griffin recommends doing so to boost ventilation as Linda explains: "Even in the darkest depths of winter, glasshouses can become very warm and humid. The humidity can then cause problems for plants and become a breeding ground for disease and pests so, if you don't have a Griffin system, then be sure to open a window or even the door for a short while once in a while to let in the fresh air."
ENDS
No: 18/210
For further media enquiries please contact Holly Daulby at Paskett PR on 01332 258 335 or email hollydaulby@paskett.co.uk.