Jun
2018
Growing Under Glass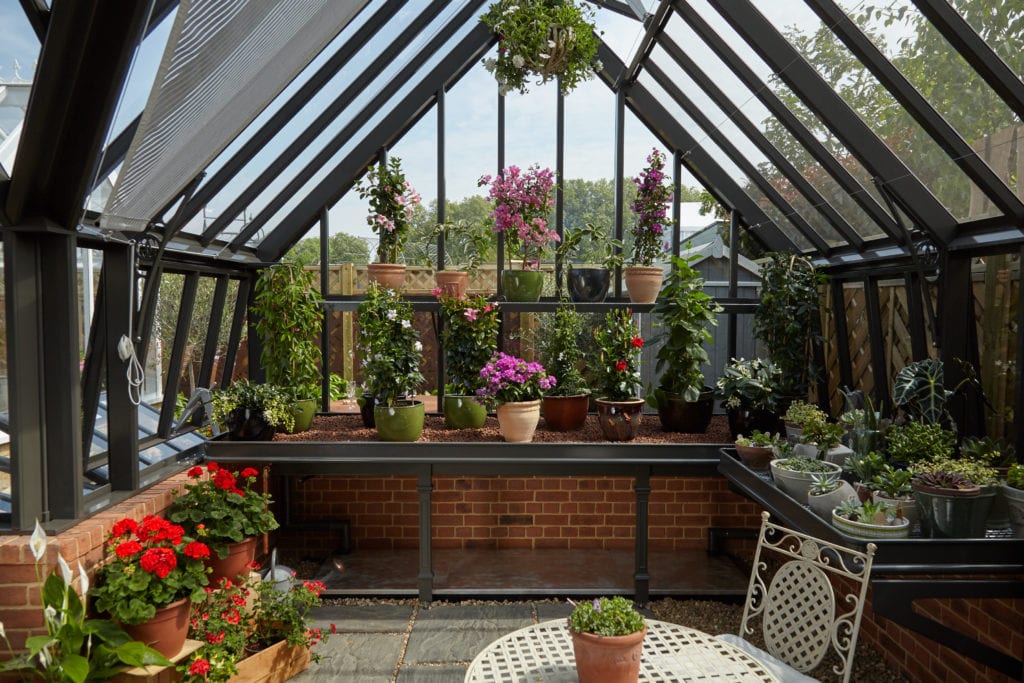 Growing plants under glass means you can control temperature to maximise healthy plant growth, while also providing protection from the elements. With the right structure, gardening can happen all year round, no matter the weather. However, choosing the best structure can be challenging as there are many options available.
Let's discuss a few options, to help you get insight. You can also contact us and talk to our experts to help you make the best decisions.
Glasshouses
Glasshouses are a key feature in British gardens, providing a home for horticulture all year round. Traditionally, their purpose was to create a warm and humid climate to replicate the temperatures and natural surroundings that tropical plants are used to.
Over time these designs have evolved thanks to changes in technology and style. Now, glasshouses can add a touch of class to your garden as a freestanding or lean to feature.
Greenhouses
Greenhouses serve the same purpose as glasshouses but traditionally utilise other materials. Glass, however, can enhance insulation, which in turn boosts plant growth.
As well as being more environmentally friendly than plastic alternatives, glass also offers better clarity and views. After all, plastic and other alternatives can deteriorate quicker and won't stand the test of time like glass.
Therefore, a glasshouse is certainly an investment in the future of your garden and property. And, when you work with Griffin Glasshouses to manufacture and install your structure, you'll enjoy the benefit of a lifetime structural guarantee.
Orangeries
Orangeries have more brickwork and less glass than glasshouses and greenhouses, and the window panes are often separate from each other. They tend to have a brick base with a flat glass roof, with a raised lantern in the centre. Often thought to be more grand and luxurious, orangeries are rapidly becoming a popular choice. You can use them to create an additional living or dining space, or simply an area to relax and enjoy the view of the garden.
Conservatories
Conservatories are attached to the home and usually have complementing décor both internally and externally to match the rest of the home. They usually have glass panes side by side, with low brickwork and pitched roofs.
Gardeners traditionally used conservatories for growing shrubs and herbs, but now many people see them as living spaces.
Alternative Options
Other non-permanent buildings include:
Polytunnels: walk-in tunnels covered in polythene with entrances at either end, that trap heat to encourage plant growth
Coldframes: Used for germination and hardening off plants. A key benefit is how you can integrate them into glasshouse designs to be a complementing extension of the growing space, a service which Griffin Glasshouses offers.
Why Choose Griffin Glasshouses?
Griffin Glasshouses, with 50 years of experience manufacturing bespoke glasshouses, creates structures that are shaped to meet the specific requirements of each customer and each garden. Its services and advanced technology ensure maximum light enters the glasshouse and that you can create the perfect conditions for your plants.
Our popular systems include shading, heating, fully automatic ventilation, and irrigation.
Griffin Glasshouses offers different collections to suit any garden and style. Whether you want to grow tropical plants, herbs, or just enjoy the luxury of a year-round garden, Griffin Glasshouses has the perfect solution for you.
Talk to our team, or download our helpful guideline to get your greenhouse started.