Nov
2023
Horatio's Garden Art Auction Fundraiser Gets Great Results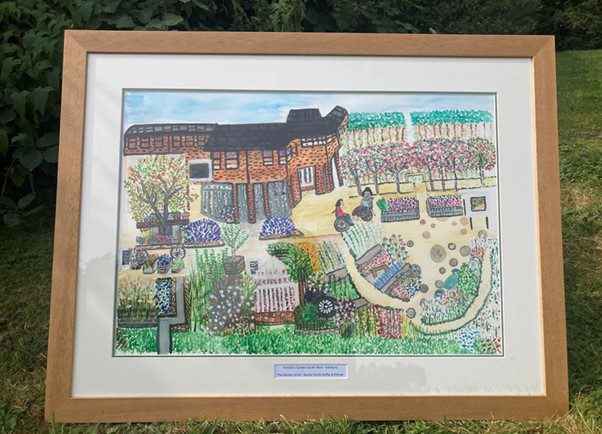 If you have been following our story the last couple of years, you will know that we donated a painting by 'Wonky Artist' Rachel Smith to our friends at Horatio's Garden for their Autumn Fundraising Art Auction. We wanted to help them raise much-needed funds so they can continue to provide beautiful, accessible gardens for patients in NHS Spinal Injury Centres across the UK. So it's thrilling to see that they have raised over £50,000!
A charity that designs and installs gardens into spinal treatment centres in the UK in order to aid rehabilitation of long-term patients, Horatio's Garden is named after Horatio Chapple, a schoolboy who wanted to be a doctor whose life was tragically ended after a polar bear attack on a school trip to Svalbard in August 2011.
Horatio's parents started up Horatio's Garden to nurture the wellbeing of people after spinal injuries in beautiful, vibrant outdoor sanctuaries, whilst also commemorating the memory of their son in an enduring way.
The charity held an art auction last month, where art was auctioned online from the 13th to the 29th of October. Griffin Glasshouses contributed a piece by Rachel Smith, "The Wonky Artist" and it sold above the expected hammer price. Over £50,000 was raised at the event and so we are proud of our very small contribution and the help the sale of this piece will offer to the charity and its vital work.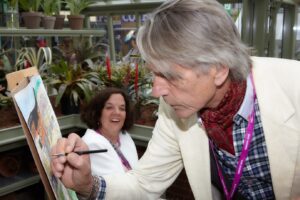 The piece was painted back in May 2022 at RHS Chelsea where many different celebrities contributed, such as Jeremy Irons, Linford Christie, Deborah Meaden and many more. We made sure to collect everyone's signatures too, to give a great record of provenance, and we photographed all the celebs who took part to create an accompanying 'look book' to accompany the painting. We hope the new owner get great enjoyment of the piece for many years to come.
If you take a look through our archives you will be able to find out all about it.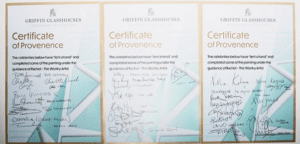 Where are all the Horatio's Gardens?
There are six completed Horatio's Gardens in the UK.
Griffin Glasshouses have installed glasshouses into three of the six that have been built to date. With the following two projects underway at present, there will be more to reveal in 2024 and 2025!
Horatio's Garden Northern Ireland in Belfast: is due to open in early 2024, with construction underway at present and the planting soon to be completed. This garden has been designed by Andy Sturgeon.
Horatio's Garden Sheffield & East: designed by the Charlotte Harris and Hugo Bugg is the next garden underway, where the design themes and features were debuted at RHS Chelsea in May 2023.
Griffin Glasshouses are a proud long-time partner of Horatio's Gardens and can't wait for what's coming next!
Please consider donating here: https://www.horatiosgarden.org.uk/donate/
If you would like to talk to us about any of our glasshouses here, or are thinking of commissioning a structure for your garden, then please get in touch with us on +44 (0) 1962 772512 or sales@griffinglasshouses.com