Oct
2023
Would You Like To Visit A Griffin Glasshouses Garden In The UK?
In April, we put together a first article telling you all about where you can find a Griffin Glasshouse in publicly opened gardens across the country. We have put together another list of beautiful gardens in the UK as a part two to this article. So read on to find out where else you can find a Griffin Glasshouse!
Take a look at our April blog to read more about where you can visit Griffin Glasshouses in beautiful gardens across the UK in the first of our articles profiling these installations.  If you are an avid garden visitor, then you can add even more stunning locations that should also be on your list of places to visit. Check out our collection of gardens below to find out where you can see our glasshouses in real life!
Bespoke, lean-to glasshouse in The Nursery at Coton Manor Garden, Northamptonshire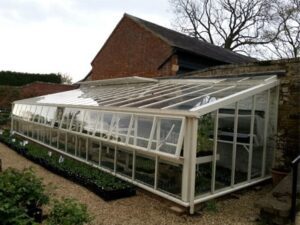 At Coton Manor, the bespoke, lean-to Victorian Style Griffin Glasshouse performs an essential role in housing seedling and young plants. Here, the glasshouse provides shelter to allow these young plants to grow and flourish.
Coton Manor Garden is open Tuesday to Saturday, from the 28th of March until the 30th of September 2023. There is no cost of admission to visit the Nursery at Coton Manor, where you will be able to see a wide range of plants, including shrubs, herbaceous perennials and grasses.
To explore the rest of Coton Manor, adult tickets cost £10 and children £3.50. The Garden, Nursery and Café are open Tuesday – Saturday 11.30am – 5pm.
Coton Manor
A Free-Standing Glasshouse in Mr. Fothergill's Display Garden at Capel Manor Gardens, Middlesex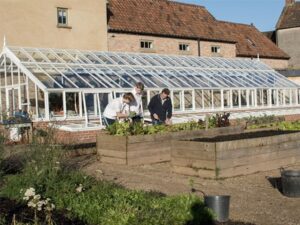 Connect with nature in the heart of North London by visiting the picturesque Capel Manor Gardens. With over forty gardens set across the thirty-acre estate, there is plenty to see and explore. Set amongst a colourful formal pattern of flowerbeds in the Mr. Fothergill's Display Garden, you will find a free-standing Victorian-style Griffin Glasshouse, featuring a variety of plants grown in the glasshouse from Mr Fothergill's seeds.
The beautiful gardens at Capel Manor are open daily from March to October, costing £10 for adults and £6 for children. With stunning gardens, a mini zoo and gift shop, there is lots of activities for all of the family to enjoy.
Capel Manor Gardens
Lean-to Glasshouse in The Community Garden at The Bishop's Palace, Somerset
In the heart of medieval Wells, hidden within the ancient ramparts of the Bishop's Palace, are fourteen acres of peaceful gardens. Originally forming the Kitchen Gardens, you can find a lean-to Victorian Griffin Glasshouse in what is now the Community Garden, where volunteers and community groups have been planting fruit, vegetables and flowers.
This produce is available on sale for visitors to enjoy at home or turned into tasty dishes for The Bishop's Table, an award-winning café serving a delicious range of homemade food. The flowers grown within the garden are displayed in the Palace or available to purchase in the shop.
The historic Bishop's Palace is open 9.30am-5.30pm daily over summer, with guided tours of the gardens included in the price of admission. Most Fridays, entrance to the gardens is free for RHS members with starred cards.
The Bishop's Palace
Polydome Greenhouse Specialists in Birr, Ireland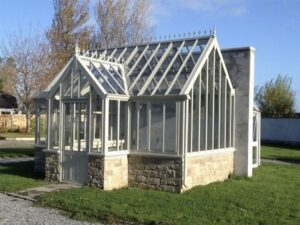 One of Ireland's leading greenhouse suppliers, Polydome is the official agent of Griffin Glasshouses for Ireland. At Polydome you can step inside a Griffin Glasshouse and talk through our full range of glasshouses which can be tailored to suit individual needs for the personal or professional gardener.
Polydome
Woodlands House Memorial Garden at the 45 Commando Base in Arbroath, Scotland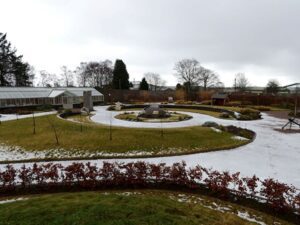 Designed by British gardener Toby Buckland, the Memorial Garden at 45 Commando Base provides a space for remembrance and reflection by honouring wounded soldiers and those who have lost their lives.
Situated within a Royal Marines establishment, the project sought to create a place where marines and families can celebrate the soldiers and connect with the base and with nature.
The Griffin Glasshouse within the garden strengthens this connection by being a place where plants can flourish, as well as functioning as a venue for military personnel and the local community to enjoy.
The Memorial Gardens at 45 Commando Base
Cardigan Castle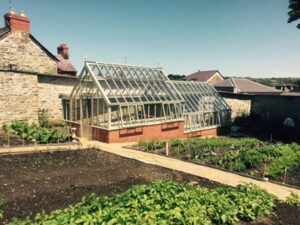 There is lots to explore at the historic Cardigan Castle. As well as the splendour of the Georgian Mansion and the medieval castle walls, visitors can also access the stunning Grade II listed gardens, home to over 130 types of plants. A winding pathway amongst the vibrant plants allows visitors to be immersed in nature and admire the garden's rare collection of plant species.
With more than 844 years of history, designing and building a 21st Century glasshouse in Cardigan Castle's kitchen garden was not without its challenges. We created a like-for-like replacement to the remains of the Victorian original glasshouse, swapping a wooden structure for our maintenance-free powder coated aluminium design. The glasshouse is built against an existing wall in the kitchen garden and is a  ¾ span design. It is a stepped and tapered glasshouse with doors at each end and a partition, size is 3.9m x 10.2m. The resulting structure is in keeping with the previous greenhouse, offering a useful space for the gardener's at the heritage property to bring on seedlings and tender plants for the enjoyment of visitors.
Cardigan Castle is open seven days a week for the public to visit, with adult tickets costing £7 and children costing £4. As well as the mansion, castle remains and stunning gardens, there are also interesting exhibitions throughout the year.
Cardigan Castle
Bolehyde Manor, Wiltshire
The historic Bolehyde Manor is surrounded by beautifully maintained gardens, with formal gardens, walkways and topiary as well as a productive vegetable garden. There is also a Griffin Glasshouse!
Bolehyde Manor's most famous previous resident is Camilla Parker-Bowles, as then was, now better known across the world as Queen Camilla.  The gardens at Bolehyde Manor are open to the public one day of the year through the National Gardens Scheme (NGS). So grab your chance to walk in the footsteps of a queen of England and raise funds for the NGS at the same time!
Bolehyde Manor
Chiswick House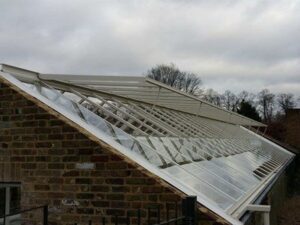 Inspired by the classical architecture of Italy, Chiswick House and Gardens were designed by William Kent and Richard Boyle in 1725. Contrary to the formality of early 18thcentury garden design, they created a revolutionary, natural landscape. As well as the impressive 65-acre gardens and grounds, there are also Kitchen Gardens to enjoy.  This is a thriving and productive place where community groups are able to meet and connect with nature. Here you can see the gardeners at work as seasonal planting and harvesting takes place.
Chiswick House and Gardens welcome visitors Thursday-Sunday until the 29th of October. It is free to enter the grounds and tickets to the House and Kitchen Gardens cost £11 for adults and £5.50 for children.
Chiswick House and Gardens
Therapeutic Glasshouse in Horatio's Garden Belfast – coming in 2024!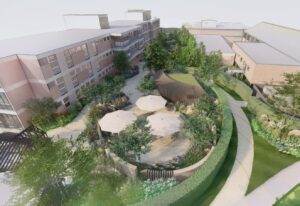 Horatio's Garden fund the creation of nurturing and accessible garden spaces in NHS spinal injury centres across the UK to support the wellbeing of people recovering from spinal injuries. They have already opened six gardens, with a seventh currently under construction in Belfast.
We have been fortunate enough to once again contribute towards this important project by supplying a bespoke three-quarter span glasshouse with a porch entrance and double doors. The glasshouse will be wheelchair accessible, enabling those with limited mobility to have access to nature and support their mental and physical rehabilitation. We've been working with designer Andy Sturgeon to bring this design to life and can't wait to see the finished garden very, very soon!
Horatio's Garden
Horatio's Garden in the Midland Centre for Spinal Injuries, Shropshire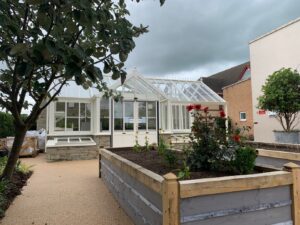 As well as soon-to-be-featured in the Belfast Horatio's Garden, you can also find a Griffin Glasshouse in four other Horatio's Gardens, including in Cardiff designed by Sarah Price, as mentioned in our previous blog.
Additionally, a Griffin Glasshouse can be found in the Midland Centre for Spinal Injuries in Shropshire, designed by Gardener's Question Time's Bunny Guinness. Here, the glasshouse is the growing hub of the garden, providing a space for patients to learn gardening skills and enjoy a peaceful, reflective space amongst nature.
Horatio's Garden
Wheelchair Friendly Greenhouse at Stoke Mandeville's Horatio's Garden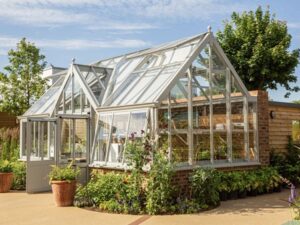 Specially designed to provide full wheelchair access, the Stoke Mandeville Horatio's Garden provides patients with a calm oasis away from the bustle of the hospital.
The glasshouse enables all-year-round enjoyment of the garden, regardless of weather conditions, as well as a centre for patients to participate in the garden to support their recovery from spinal injuries.
Horatio's Garden
If you would like to talk to us about any of our glasshouses here, or are thinking of commissioning a structure for your garden, then please get in touch with us on +44 (0) 1962 772512 or sales@griffinglasshouses.com