Nov
2022
It's A Win For Joe Swift, Horatio's Garden Wales is open & A New Horatio's Garden is coming to Northern Ireland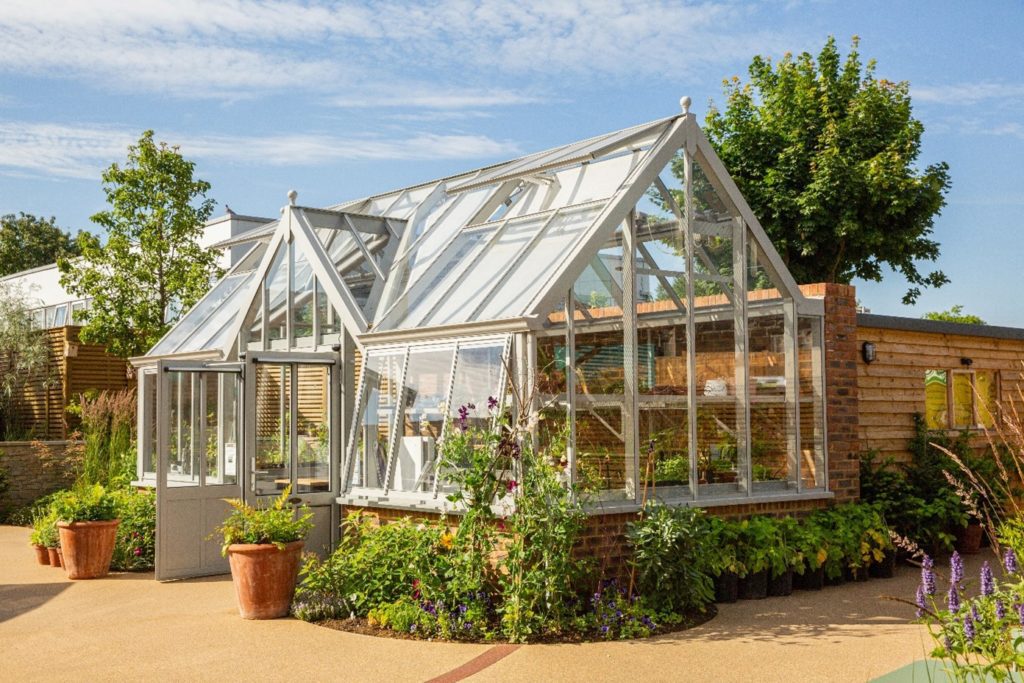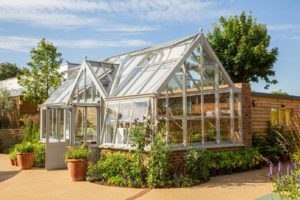 Horatio's Garden Stoke Mandeville with our glasshouse in situ
We've worked with Horatio's Garden over the last five years, supplying glasshouses for three of their six gardens to date. There is a seventh garden for Horatio's, and our fourth glasshouse, in the pipeline and we are looking at embarking on another new project with the charity.
A huge congratulations are in order for Joe Swift as he took home the Healing, Learning or Community Landscapes & Gardens award at the Society of Garden Designers Awards for his incredible Horatio's Garden Stoke Mandeville design earlier this year.  The design was described by judges as "an absolutely phenomenal space demonstrating exceptional quality of design and execution". It was a great pleasure working on this project with the team at Horatio's Garden and it is a very well-deserved win for a garden that is garden also well-loved by patients at the Stoke Mandeville spinal injuries centre.
The charity's sixth garden, Horatio's Garden Wales, opened in Cardiff earlier this year and we're pleased to announce that we will be working with the charity on the next Horatio's Garden in Belfast, that is to be designed by award-winning garden designer Andy Sturgeon.
Horatio's Garden are teaming up with Belfast Health & Social Care Trust, and the garden will be situated within the grounds of the Withers Building at Musgrave Park Hospital in Belfast for the Spinal Cord Injuries Unit (SCIU). Providing a peaceful sanctuary for patients and NHS staff at the hospital, the garden will be a space where they can find some respite from the hospital world and escape into nature for a while to spend time with loved ones or have some much-needed down-time.
Leading garden designer Andy Sturgeon developed his designs in collaboration with patients, their families and friends, as well as NHS staff. The capital appeal for Horatio's Garden Northern Ireland is now in its final phase. With £100,000 left to raise, the charity recently launched its online community appeal, with all donations up to £50,000 generously being matched by an anonymous donor.
Andy creates bold, architectural landscapes using natural materials and carefully thought-out planting, making him an acclaimed and internationally renowned landscape and garden designer. He has won a total of nine RHS Gold medals and three Best in Show at the Chelsea Flower Show, and has twice been voted one of the top 10 garden designers in the UK.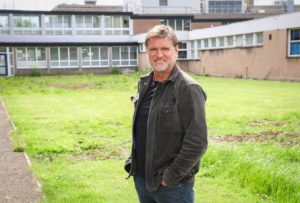 The site for the Horatio's Garden Northern Ireland (above, with Andy Sturgeon) is a blank canvas, one which will be transformed by Andy Sturgeon's design (below)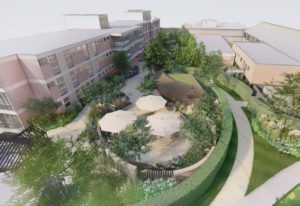 We will be supplying a bespoke three-quarter span design glasshouse with a porch entrance and double doors, measuring 4.2m x 5.3m. The glasshouse will be wheelchair-accessible and have enough space for patients in the Spinal Cord Injuries Unit at Musgrave Park Hospital in Belfast to take refuge in a therapeutic space as they adjust to living with life-changing injuries during what are often long stays in the hospital.
This will be the fourth garden we've been involved in with this charity and if previous projects are anything to go by, we know this new garden in Belfast will be spectacular.
If you would like to talk to us about a glasshouse design, then please get in touch with us on +44 (0) 1962 772512 or sales@griffinglasshouses.com .