Apr
2023
Where can you find a Griffin Glasshouse in the UK?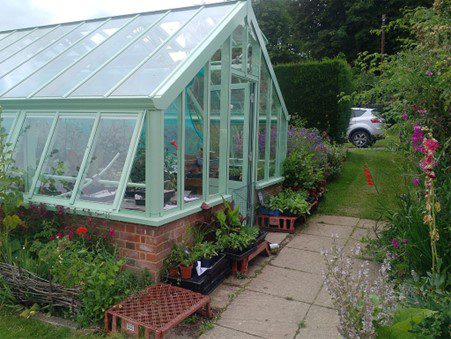 You may have seen beautiful Griffin Glasshouses online, but there are lots of opportunities for you to visit our glasshouses in gardens across the country too! Check out our list below to see where you can find us in publicly open gardens this year.
We've been fortunate enough to install our glasshouses in many beautiful places across the UK and beyond, with plenty of these locations open to the public so you can see them up close and personal. If you'd like to come and have a close look at some of the spectacular glasshouses we've installed in publicly opened gardens, keep reading to see where you can find a Griffin Glasshouse.
The Alpine House for the Alpine Garden Society in Pershore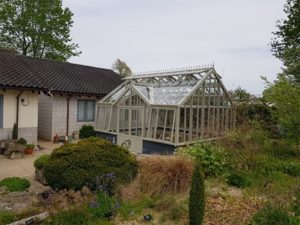 Step foot into the Alpine House at the Alpine Garden Society Garden in Pershore, Worcestershire and admire a mix of plants from around the world, including bulbs and alpine cushion plants hanging across the tufa wall. The garden is open all year-round (Monday-Friday, 9am-5pm) and is free to the public, showcasing a range of hardy plants, including alpines, in different, beautifully landscaped settings.
We installed this freestanding Alpine House in 2018.  The bespoke glasshouse features double door access for moving larger objects such as the huge rocks that form part of the display in there. It is a permanently planted display home for plants that are frost hardy but require protection from winter wet.
Alpine Garden Society
Large, bespoke freestanding glasshouse in the walled garden at Barton Abbey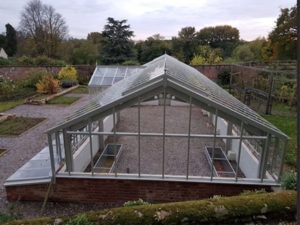 The picturesque Barton Abbey in Steeple Barton, Oxfordshire, features a fifteen-acre garden comprising of sweeping lawns, a stunning lake and a picturesque walled garden. This year, the garden will be open for the National Garden Scheme (NGS) on Sunday 28th May 2023, 2pm-5pm. Children can enter for free and adult tickets cost £5 each.
The Griffin Glasshouse at Barton Abbey was installed in 2017 and is a working glasshouse that is a central feature in the walled garden.  Begin a part of a kitchen garden that has a fine display of fruit and vegetables, the large glasshouse is laid out as a flexible multi-use space that includes external coldframes, which are ideal for hardening off young plants brought on inside the glasshouse.
Barton Abbey
A pair of freestanding glasshouses at Bhaktivedanta Manor in Watford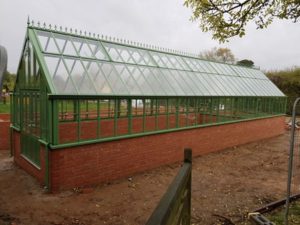 Bhaktivedanta Manor in Watford is a spiritual sanctuary, offering a retreat into the world of yoga, meditation, sacred music, worship and much more. The Manor is set among five acres of stunning ornamental gardens, lawns and woodland.
The above picture shows one of the two bespoke free standing Griffin Glasshouses that was designed for Bhaktivedanta Manor, which houses Tulsi – also known as Tulasi or 'holy basil' – a sacred plant that is regarded as an earthly manifestation of the Goddess Tulasi in Hinduism.  The picture above is one of two of the newly built structure that we installed in 2017 and 2018, and the area around this part of the garden has now been attractively landscaped. A beautiful pair of glasshouses with beautiful purpose.
Three-quarter offset ridge glasshouse in the Lakeland Horticultural Society's Holehird Garden in Windermere
In the Lakeland Horticultural Society's Holehird Garden, Windermere, you can find a bespoke Victorian-style Griffin Glasshouse, which is built against the east wall of the enclosed gardens.
The greenhouse has wheelchair access, so all visitors can enjoy its architectural features and the array of stunning plants that are given a home inside. Kept at a minimum temperature of 5 degrees Celsius, a mixture of permanent planting and seasonally-changing displays, provides year-round interest for visitors. Holehird Gardens are open every day and access is by donation. Well worth a visit if you are in the Lake District.
We were commissioned to build this structure, which is a 4.5m x 7.4m three-quarter offset ridge glasshouse with double-door, wheelchair-friendly threshold access, in 2017. The structure replaced an old aluminium greenhouse, and has access through the glasshouse into the potting shed work rooms behind the high wall.
Holehird Gardens
Freestanding therapeutic glasshouse in Horatio's Garden Cardiff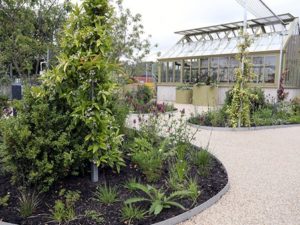 Horatio's Garden fund the creation of beautiful, nurturing gardens for those in NHS spinal injury centres. All of their gardens are wheelchair accessible, enabling those with limited mobility to still have access to outdoor spaces, helping to improve patients' wellbeing.
The image above features the Griffin Glasshouse that we installed at Horatio's Garden, Cardiff in early 2022. The beautiful garden was designed by the award-winning Sarah Price, who was inspired by the Welsh landscape when designing the garden, including elements such as a scented garden, meadow garden, vegetable garden and flower garden. The glasshouse has hosted a variety of seasonal events, including creative workshops, gardening activities, live music and more, creating a therapeutic space for patients to enjoy together.
We're proud to have a Griffin Glasshouse situated in other Horatio's Gardens across the UK, including one at the Midland Centre for Spinal Injuries at the Robert Jones and Agnes Hunt Orthopaedic Hospital in Gobowen, and the National Spinal Injuries Centre (NSIC) at Stoke Mandeville in Aylesbury.
Horatio's Garden Wales in Cardiff
Head Gardener: Owen Griffiths
Garden Designer: Sarah Price
Three-quarter span offset ridge glasshouse at Jervaulx Hall in North Yorkshire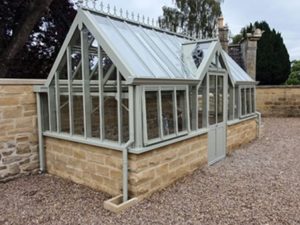 While renovating the property, the family who own the incredible Jervaulx Abbey in North Yorkshire chose a ¾-span Griffin Glasshouse for its eight-acre gardens.  The abbey gardens are surrounded by the stunning scenery of the Yorkshire Dales, making this a picture perfect setting for a special event, which is one of the uses of the property that the family puts to use.
The Abbey is open dawn until dusk every day with lots to see and fill the hours with, from the enchanting ruins of the 16th century monastery to the tranquil fernery and gardens that spread across the expanse of its characterful gardens.
Our glasshouse was commissioned in 2020, built in a masonry style in keeping with the period property. The glasshouse is put to use in bringing on plants for the mixed borders and beds, and the small vegetable garden on site, and is the perfect space for this!
Jervaulx hall
Lean-to glasshouse with coldframes in the walled garden at Littlethorpe Manor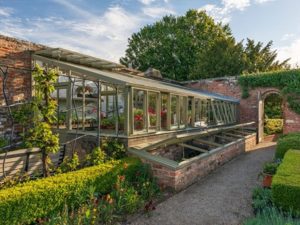 With a stunning two-level garden, Littlethorpe Manor comprises of eleven-acres of grounds, including four-acres of formal gardens and seven acres of parkland.
When you step through the entrance to the walled garden that dates back to the 1700s, you can find the bespoke lean-to Griffin glasshouse.  Sitting among beautiful displays of flowers in borders and climbing the walls, there couldn't be a more picture perfect setting.
We built the lean-to style glasshouse in 2020, built into the corner of the walled garden, using bricks that are in keeping with the original brickwork of the main walls which were from the old Littlethorpe Brickworks. There are coldframes along the longer edge of the glasshouse and these, along with the main structure are used to bring on flowers for planting out in the gardens, to maintain seasonal interest all year round.
Littlethorpe Manor
Lean-to glasshouse in the walled garden in Lockeridge House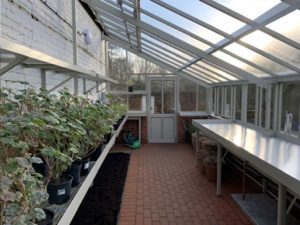 Here you can see the interior of the bespoke lean-to Griffin Glasshouse that was commissioned for Lockeridge House in Wiltshire in 2019. Set among the beautiful gardens of Lockeridge House, which features a tranquil water garden and large willow trees that line the banks of the River Kennet, you can find the glasshouse sitting on the edge of the grounds' walled garden.
The glasshouse has ample space for overwintering plants that need protection, and also showcases a wonderful display of ferns, roses and Oenothera.
Lockeridge House
Three-quarter span offset ridge glasshouse in the walled garden at Stockton Bury
When you visit the peaceful surroundings of Stockton Bury Gardens in Leominster, Herefordshire, you'll be able to find a Griffin Glasshouse nestled among the plants and flowers that flourish there.
The four-acre, family-run garden at Stockton Bury has been transformed into a well-acclaimed garden, and is home to a variety of plants and wildlife, as well as a carefully curated secret garden that's perfect for slipping into and escaping from the hustle and bustle of the outside world.
If you would like to visit, the garden and café open for the spring and summer from 1st April – 30th September, 11am – 4.30pm. Garden entry for all adults is £9, children over five £5 and children under five go free. A season ticket for one is £35.
We were commissioned to build a replacement for an old wooden structure in this garden in 2020. The resulting three-quarter span style glasshouse is home to a number of non-winter hardy plants that benefit from the large opening windows along the long edge of the glasshouse for cooling the interior in the summer and a high ridge to accommodate the more established plants within.
Stockton Bury gardens
Lean-to glasshouse in the walled garden in the Tresillian Estate, Cornwall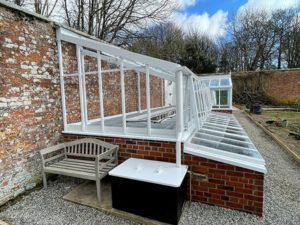 The above lean-to Griffin Glasshouse, inspired by Victorian architecture, was commissioned for Tresillian House in 2022 and now proudly sits in the grounds' fruit garden. The lean-to design of the glasshouse enables it to collect and store the sun's heat during the day, allowing it to maintain its temperature when heat is emitted at night.
Built within twenty-two acres of stunning grounds, you can find this beautiful Cornish manor house and its gardens on the north coast of Cornwall, just a stone's throw away from some of the country's most remarkable beaches.
Tresillian Estate
Lean-to glasshouse in the walled garden at Wilton Lodge Park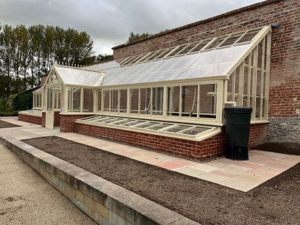 Situated within the walled garden at Wilton Lodge Park, you can find a lean-to Griffin glasshouse that is home to a wide variety of fruit, vegetables, flowers and herbs.
The walled garden is set amongst beautiful parkland that extends to 43 hectares and welcomes a range of users, from sports players to museum-goers. The garden is open all year round for visitors so you can pop along whenever the mood takes you and take relaxing strolls along its tree-lined paths.
This project was completed in 2022, with first discussions about this project taking place as far back as 2018. After a 2 year wait for council funding to come through and 2 years for the planning consent and building works to be completed, we were able to install eventually in 2022. A real long-term project!  The resulting greenhouse now provides a central point for the Community Garden that is a space for volunteers to grow fruit, vegetables, flowers and herbs organically for the community.
Wilton Lodge
If you would like to talk to us about any of our glasshouses here, or are thinking of commissioning a structure for your garden, then please get in touch with us on +44 (0) 1962 772512 or sales@griffinglasshouses.com. Alternatively, you can come and visit Griffin Glasshouses on stand RHW240 during the RHS Chelsea Flower Show, 23-27 May 2023.