May
2023
Join Griffin Glasshouses At The RHS Chelsea Flower Show 2023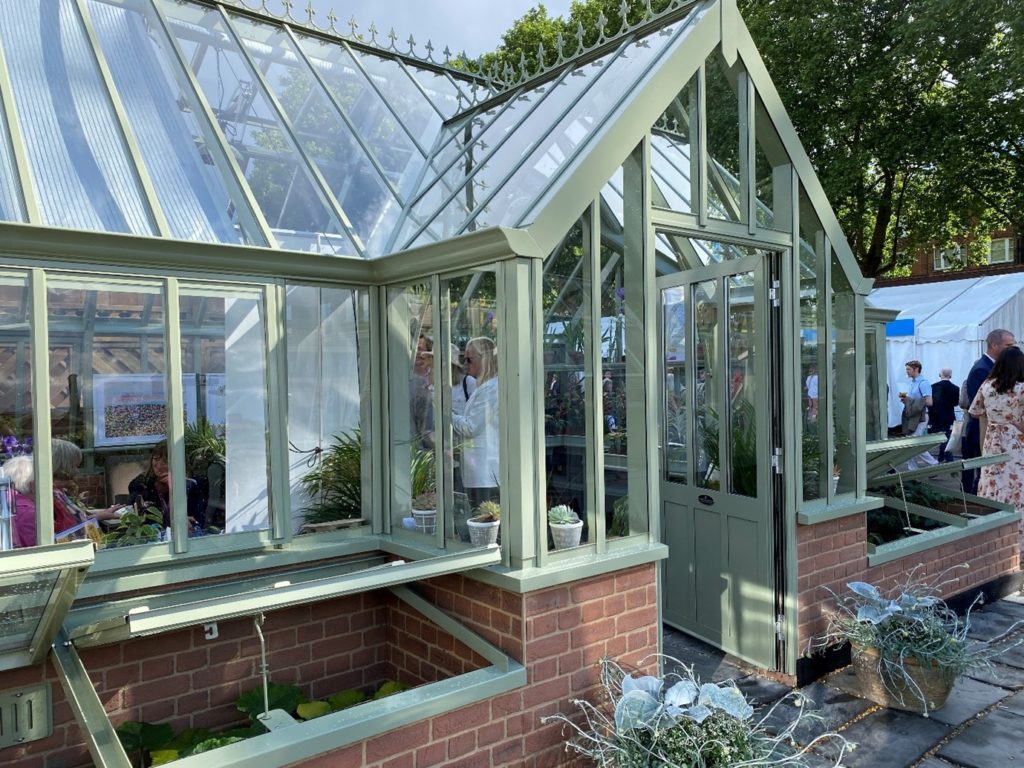 RHS Chelsea is a real treat in the horticultural calendar and we wouldn't miss it for the world. If you are planning on a visit this year, then be sure to come and find us on Royal Hospital Way!
The much-anticipated RHS Chelsea Flower Show is not too far away, taking place in its traditional spot in May from 23 – 27 May at Royal Chelsea Hospital, where it has been based since 1912.
You'll be able to find Griffin Glasshouses on stand RHW240 on Royal Hospital Way, on the north side of the Floral Marquee. We get to watch the crowds gathering around the wonderful show gardens opposite and we're really excited to see the return of the show and to be able to catch up with our friends, old and new, again.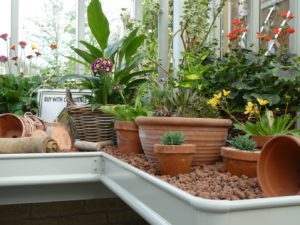 Step inside one of our National Garden Scheme Glasshouse Collection greenhouses and see how you can lay out your growing space flexibly
We will be bringing along three glasshouses, an NGS Thyme and an NGS Lavender from our National Garden Scheme Collection, as well as a small panel sided glasshouse so you can see what we have to offer for gardens of all sizes.
Last year was an exciting year, where we partnered with Rachel Smith, AKA The Wonky Artist, to fundraise for our long-time friends and associates at Horatio's Garden. This year, Horatio's Garden have a garden on Main Avenue that has been designed by Charlotte Harris and Hugo Bugg of Harris Bugg Studio.
This will be a first glimpse of the proposed design for the eighth Horatio's Garden, that will be built at larger scale at the Princess Royal Spinal Injuries Centre in Sheffield. The RHS Chelsea Garden will be relocated to the site in Sheffield, giving the show garden a forever life as a therapeutic space for patients staying in the Ward in Sheffield. We're looking forward to seeing the smaller version of the design at Chelsea Flower Show in the meantime!
We are currently working with the Andy Sturgeon's team on the Horatio's Garden Northern Ireland, which will be built at the Spinal Cord Injuries Unit at Musgrave Park Hospital in Belfast. So moving onto working with the Harris Bugg Studio for the next exciting project is something we're looking forward to throwing ourselves into later this year.
Wonky Artist, Rachel, will be back with us on Press Day this year, where we will be presenting the picture she worked on with the help of lots of celebrities at Chelsea in 2022. The picture has been finished off by Rachel and we will be presenting this to Horatio's Garden who will auction the piece as part of their fundraising activities.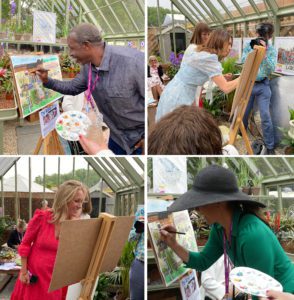 Linford Christie, Alex Jones, Sophie Raworth and Darcey Bussell were among the celebrities that stopped by to help us with our fundraising painting at RHS Chelsea 2022.
Our friends from Chilstone and Corinne Young will also be joining our stand at RHS Chelsea, with Chilstone's beautiful Octagonal Jardinere Fountain adding the perfect finishing touch to our stand as a centrepiece and the delights of Corinne's unique stitched flower pots drawing in admirers as we house them in our glasshouses again, alongside plants from the Plant Heritage national collections.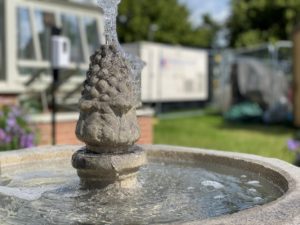 Our friends at Chilstone will help us dress our stand, pictured here is the Octagonal Jardinere Fountain that featured at RHS Chelsea 2022.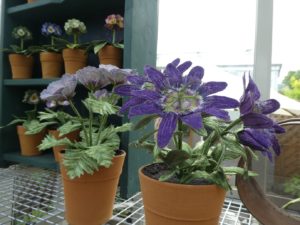 Corinne Young's exquisite stitched plant pots cause excitement on our stand each year, and will be back in 2023!
If you are coming to the show this year, don't forget to come and say hello to us and we will be happy to help with advice on design, planning and the best locations for our range of glasshouses. We can also provide you with information on conservation areas, listed building and other specialist applications that might affect planning for installing one of our glasshouses in your garden.
If you would like to make an appointment to see us during the week of the show, then please get in touch with us on +44 (0) 1962 772512 or sales@griffinglasshouses.com and we will secure you an appointment time