Apr
2022
The Wonky Artist's Unfinished Painting To Be Completed At Chelsea Flower Show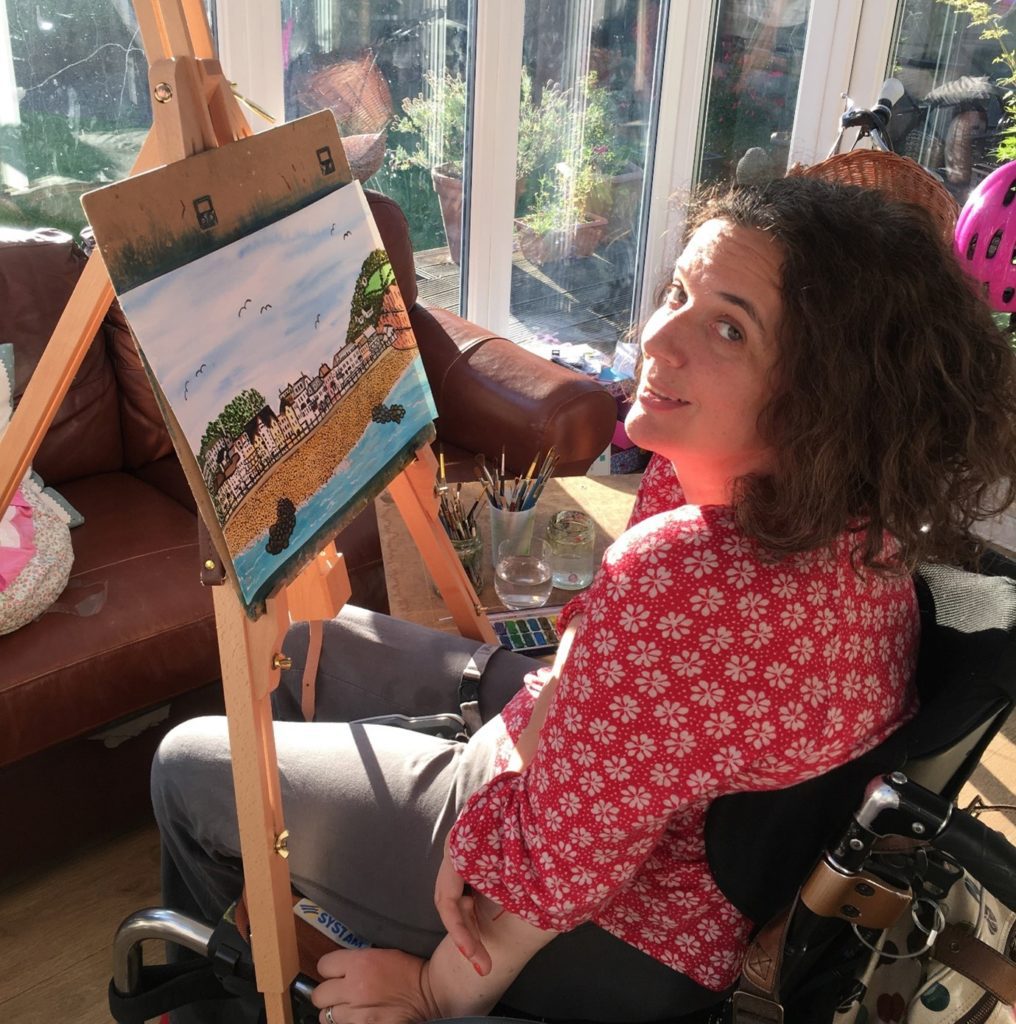 The Wonky Artist is Rachel Smith-Ruffle who was disabled following an accident, and is now an internationally acclaimed water-colourist. Rachel and her three-quarters finished painting of Horatio's Garden South-West at the Duke of Cornwall Spinal lnjury Treatment Centre at Salisbury District Hospital, will be on the Griffin Glasshouses' Stand at Chelsea Flower Show.   When completed, it will be auctioned by the charity Horatio's Garden to fund future gardens.
Following an accident at the age of 23, Rachel was left with a spinal injury and faced the rest of her life in a wheelchair.   Twenty years later she had to be on 15 months of complete bedrest due to a pressure sore and became very depressed.  Her husband bought her some paints and so she taught herself to paint whilst lying on her side in bed and had to hold the brush two handed as she cannot use her fingers.  As she rarely painted in a straight line she called herself 'The Wonky Artist'.
"I can now paint at an easel.  Celebrities visiting the show will be able to add their own touches to the painting, under my guidance," says Rachel.   "This is the first time I have tackled anything like this and I'm very excited about it."
Rachel and her painting will be inside one of the Griffin greenhouses on our RHS Chelsea stand (stand RHW611).  Griffin has been a supporter of Horatio's Gardens for some years and we have provided the charity with greenhouses for their gardens at the National Spinal Injuries Centre in Stoke Mandeville, at Horatio's Garden Midlands in Oswestry and in 2022 at Horatio's Garden Wales at University Hospital Llandough in Cardiff.
View this post on Instagram
Horatio's Garden builds and cares for beautiful gardens in NHS spinal injury centres, supporting everyone affected by spinal injury.  Each Horatio's Garden is designed by a leading landscape designer and the gardens become an integral part of peoples' lives throughout their prolonged stays in hospital, supporting not just their physical but also their psychological rehabilitation
Linda Lane, managing director of Griffin Glasshouses, says: "We have a close, personal contact with both Rachel and Horatio's Garden and I hope that celebrities will be pleased to 'Lend a hand' and help us raise lots of money."
If you would like to talk to us about a glasshouse design, then please get in touch with us on +44 (0) 1962 772512 or sales@griffinglasshouses.com