Jan
2022
We've Great Plans For A Classic Lean-To Glasshouse Design For The Royal Caledonian Horticultural Society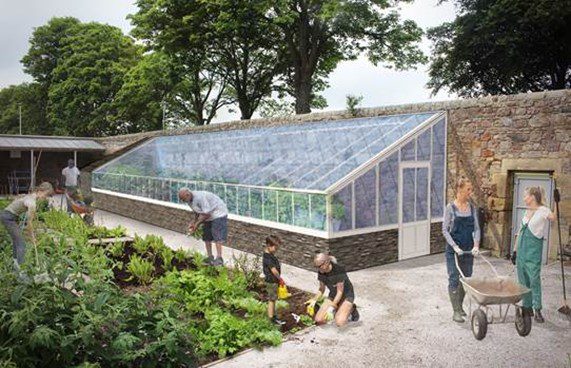 We're really excited to reveal our plans for building a new Lean-to glasshouse design for The Royal Caledonian Horticultural Society in Edinburgh!
The Royal Caledonian Horticultural Society, affectionately known as The Caley, calls the recently restored Saughton Park in Edinburgh its home. In the park's renowned walled garden there are a number of areas maintained by the Caley, it is also the location for their workshops and most of their shows. The Caley is Scotland's national horticultural and gardening society and has a broad range of members with a wide range of skills, from amateur gardeners through to specialists.
The new lean-to will take pride of place in the beautiful walled garden as a focal feature for the Caley teaching garden area.  The Griffin Glasshouse is set to play a major role in their plans to broaden their offering year-round. This working glass house will be 20m long and 3.5m deep, offering plenty of space for workshops and for the volunteers to germinate and bring on tender plants.
The groundworks are planned to start in 2022 with the build completed in 2023.  This promises to be a fantastically useful resource for the society. Over two thirds of the money required has already been raised which has allowed the Caley to put the wheels in motion.
If you would like to contribute to their fundraising campaign then please visit The Caley website and make a donation: https://thecaley.org.uk/saughton-park/
If you would like to talk to us about a glasshouse design, then please get in touch with us on +44 (0) 1962 772512 or sales@griffinglasshouses.com