Mar
2021
Which Greenhouse Suits My Garden, Lean-to or Three-Quarter Span?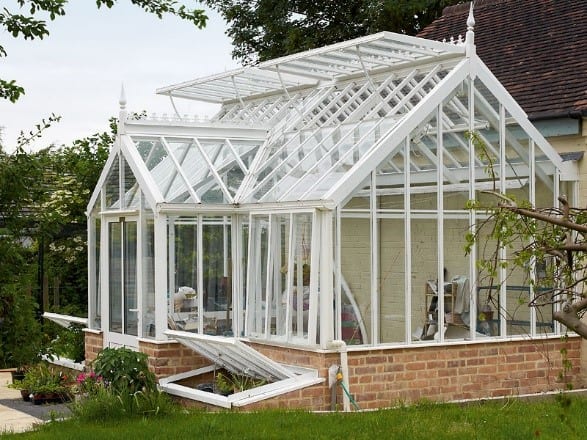 Many people with a high garden wall ask if their site is suitable for a lean-to greenhouse design.
Building a modern or Victorian greenhouse against a wall offers a range of benefits: the heat retention in the walls means that there is less glass ensuring reduced heat loss in the winter months and therefore less heat is required to maintain frost-free or ambient temperatures for growing seedlings early in the season. The walls themselves act as a heat sink and throw heat back into the room as the sun fades at the end of the day.
There are various factors to consider when choosing between a lean-to or three-quarter span. The height of the wall against which the greenhouse is to be built and the overall width of the greenhouse required will dictate if a lean-to design will fundamentally work. In most cases, if a shallower roof pitch can be used, then a lean-to design is suitable. If there is a preference for a steeper roof pitch, or the height of the wall is too low, then a three-quarter span design is best. It's not advisable to use a roof pitch of less than 25° on any greenhouse design as it will cause issues with condensation in the colder months, whereas at 25° or steeper, the condensation will run down the glass and out of the structure.
This factor has been invaluable for Griffin. It has given us the knowledge of the key elements required for successful growing in any application, whether it be on a commercial level or for the domestic gardener.
Fruit trees such as vines, peaches, nectarines, and kiwi that would normally grow outdoors can be espaliered against a high back wall.
With a three-quarter span* you get the added benefit of gaining more height within the structure and it also allows for a wider building.  Finials and cresting details can also be added to the ridge*, however, the ridge of a lean-to against the high wall is not an option.
Griffin Glasshouses has been in the greenhouse industry for over 50 years. We started out in the commercial greenhouse market covering acres of ground with our structures and providing commercial growers and nurseries with the ideal environments to grow their crops under glass.  We now focus exclusively on domestic greenhouses and remain a family-owned and managed business.